Could A MacGruber Sequel Be Possible?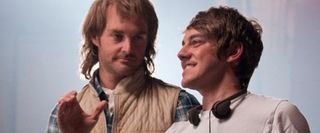 The first movie based on an SNL character in 10 years, MacGruber was a disappointing flop when it opened in 2010, making just $8 million in its entire theatrical run and disappointing a lot of us-- and there were a lot of us, I swear!-- who loved it and wanted to see it succeed. But star Will Forte has brushed himself off pretty well, doing excellent occasional work as Jenna's drag queen boyfriend Paul on 30 Rock and signing on to Alexander Payne's next film, and director Jorma Taccone has continued doing Digital Shorts for SNL, in addition to popping up as an actor on Girls and Up All Night and directing episodes of Parks & Recreation.
But just because Forte and Taccone are doing OK these days doesn't mean they've left the mulleted man of many improvised gadgets behind. Talking to Screen Crush, Taccone allowed for the possibility of a MacGruber 2-- though that wouldn't actually be the title. Here's the quote in question:
Of course, there's no indication that Universal or any other studio would want to fund a second MacGruber or that the original film's co-stars Kristen Wiig (who MacGruber marries at the end of the first movie) or Ryan Phillippe would return. But right now, it's enough just to know that Taccone, Solomon and Forte are still proud of it, and that someday those of us who fondly remember the celery-in-the-ass technique and Vicki St. Elmo's music career might get a chance to revisit that world. Hell, at this point if they made a handful of online shorts or an 80s-tastic music video, we'd all be happy with that too.
Staff Writer at CinemaBlend
Your Daily Blend of Entertainment News
Thank you for signing up to CinemaBlend. You will receive a verification email shortly.
There was a problem. Please refresh the page and try again.