Of Course Natalie Portman's Jane Got A Gun Has More Behind-The-Scenes Problems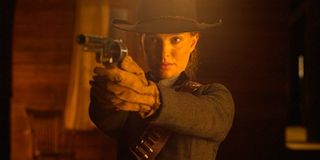 Jane Got a Gun has suffered enough, but it was silly of us to assume the cast and crew were out of the dark times. At this point, what difference will one more make? The Western starring Natalie Portman and directed by Gavin O'Connor was recently dropped by its distributor Relativity Media, which is both a good and bad thing.
The news was reported by The Hollywood Reporter, as Relativity formally announced it would be releasing Jane Got a Gun from its clutches. It's another unfortunate move because now the film, which was originally set for release on September 4, is now hoping to open in the first quarter of 2016. However, it also marks some good tidings because it's now free from what's going on with Relativity. The distributor was originally supposed to release the film with The Weinstein Co., which financed the project. But with Relativity facing bankruptcy, it decided to free up the title before it got swept up in a financial battle. Jane Got a Gun doesn't have a new release date, but the film could end up being distributed by Weinstein for a 2016 date.
It certainly hasn't been an easy road for Jane, a film that seemed cursed from the very beginning. Lynne Ramsay was set to direct the film but bailed on the first day of shooting in Santa Fe, which led to a heated lawsuit. The producers were thankfully able to keep the cast on set with the help from backers until they found a replacement. O'Connor then came in, but production had to take a hiatus while he worked out some kinks in the script. Elsewhere, Michael Fassbender was originally supposed to play the role of Jane's ex-lover but walked away from the part, forcing Joel Edgerton to switch parts. Jude Law was also attached at one point as the villain before departing. Bradley Cooper stepped in for a time, but he, too, dropped out and was later replaced by Ewan McGregor. The film now boasts a cast that includes Portman, McGregor, Edgerton, Noah Emmerich and Rodrigo Santoro.
Jane Got a Gun centers on Jane Hammond (Portman), a woman who built a new life for herself and her husband Bill (Emmerich). They had been tormented by a gang of outlaws called the Bishop Boys. As luck would have it, they once again become embroiled in their drama when Bill comes home one day riddled with bullets from their guns; he had been dueling with the gang's leader Colin (McGregor). With the Bishop Boys out looking for Bill, Jane turns to her ex-fiance Dan Frost (Edgerton) to help defend her family.
Jane is the little indie that could. Despite all odds, it some how managed to finish filming. Now all it needs is a proper distributor.
Your Daily Blend of Entertainment News