Courtney Crumrin and the Movie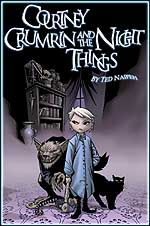 With movie studios having nearly drained the blood out of the genre for their vampire-like comic movie fetish, producers are turning their eyes from the now consumed and lifeless DC and Marvel franchises to smaller, independent artists. There's already been news that Samuel L. Jackson is powerhousing a project based on the ecclectic Afro Samurai comic. Now, according to Variety, Fox 2000 is stepping up to take Ted Naifeh's Courtney Crumrin into the dark of the movie theater, beginning with her adventure story "Courtney Crumrin and the Night Things.
Courtney is a young, noseless little girl who, when forced to go live with her eccentric uncle, is dumped into a world of magic complete with warlocks and goblins. Her classmates have begun mysteriously disappearing and its up to Courtney to sort things out. The artwork and story line remind me of a weird blend of "The Lion, The Witch and The Wardrobe", "Harry Potter", and a Hayao Miyazaki flick, with a little Tim Burton edge to top things off. It doesn't particularly excite me, but as comic adaptations go, anything is better than the prospect of an Ant-man movie.
Whether the film will be done as animation or live action has yet to be declared. Personally, I would love to see some hand drawn comic adventuring come to the movies. So far the only word is that Graham Tallman (a first time feature length script writer) will adapt the story for the screen while Stan Winston and Brian J. Gilbert will produce.
Your Daily Blend of Entertainment News