Courtney Love Wants Scarlett Johansson To Play Her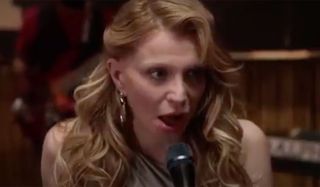 You'd really think people would have stopped giving Courtney Love any serious jobs or any power whatsoever by now, but she's actually taking a strong hand in developing Heavier Than Heaven, the planned biopic about her late husband, Kurt Cobain. Even though no casting deals have been set, Love is apparently handpicking Scarlett Johansson and Ryan Gosling to play her and Cobain. An unidentified "close friend" told London's Mirror that "She wants the best actors to portray them - she will be on set all the time giving Scarlett and Ryan advice on what it was like being one part of the most notorious couples since Sid and Nancy. It will be explosive."
The article also reminds us that Courtney and Scarlett know each other from L.A.'s party scene, which last I checked wasn't exactly the best way to get to know an actor's skills. Love apparently has a huge girl crush on ScaJo, since the same friend told the Mirror "Courtney even copied Scarlett's sleek blonde movie look when she was in London for the Fashion Rocks party last year."
I could make all sorts of cruel jokes about talentless Scarlett playing talentless Courtney, but I think you're already making them yourselves. The really interesting part here is Gosling-- a role like that would definitely be high profile, and a challenge for the mega-talented Gosling. But why would anyone, especially someone with the pick of any project he wants like Gosling, get tangled up with Courtney Love as an executive producer? It seems like Gosling could do a creditable job in the role, but it's hard to imagine anyone taking this movie seriously when Courtney Love has the reins.
Your Daily Blend of Entertainment News
Staff Writer at CinemaBlend