Crank 3 Might Actually Happen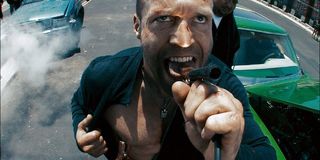 Never underestimate the determination of a filmmaker, as it's one of the most powerful creative forces in the world. It's what's kept Terry Gilliam's The Man Who Killed Don Quixote alive long enough to become an Amazon project, and it's also what might net us a new Hellboy film – provided Pacific Rim 2 pulls down the cash to warrant it. Most importantly, at least when it comes to the duo commonly known as Neveldine/Taylor, it's what might bring Chev Chelios back for one more round of jacked up carnage in Crank 3!
Screen Crush recently interviewed one half of the directing collective that brought us the first two entries in the Crank series, as well as Gamer and Ghost Rider: Spirit Of Vengeance, Mark Neveldine. With his new film The Vatican Tapes due for release this Friday, it seemed like a good time to catch up with the first time solo director, as he's ready to strike it out on his own at the multiplex for the first time. But like a best friend that's been gone for too long, talk turned to the possibility of Crank 3, and Neveldine had the following exciting update to provide:
When we last left Chev, he had been on the successful end of a heart transplant after the events of Crank 2: High Voltage. Of course, this was after he found himself on fire due to a gigantic surge of electricity, caused by his grabbing onto an electrical transformer with his bare hands. What we're trying to say is, we can't even begin to imagine what this treatment for Crank 3 will entail, or what "beat the clock" gimmick they'll employ this time, but if it can vault over the crazier and crazier heights this series seems to be scaling, surely it's worth at least a look see.
Of course, the biggest obstacle standing in the way of a proper Crank 3 would be "the stars aligning." More specifically, Jason Statham's star would need to do some quick aligning in order to keep the film on track with its original star. That could prove to be a bit difficult as he's currently looking to participate in Furious 8, which is set for an April 14, 2017 release at the moment. While the Fast And Furious films usually have quick turnaround times in their production schedules, it'd be interesting to see how far along the script for Crank 3 is before that film heads before cameras. Then again, there's always the option of possibly recasting the character if Statham's schedule doesn't work out.
Considering the crazy plots that have come out of the Crank camp, it wouldn't be at all surprising to see them give Chev Chelios a new face and a finite amount of time to have it changed back to that classic Statham look. If Mark Neveldine and his partner are that interested in keeping momentum going on Crank 3, while not totally sacrificing the participation of Jason Statham, this would probably be the best solution. Which means that you Gamer fans should start mailing your postcards demanding Gerard Butler being named "Shemp Chelios."
For now though, you can see Mark Neveldine's attempt at solo horror filmmaking when The Vatican Tapes hits theaters this Friday.
CinemaBlend's James Bond (expert). Also versed in Large Scale Aggressors, time travel, and Guillermo del Toro. He fights for The User.
Your Daily Blend of Entertainment News
Thank you for signing up to CinemaBlend. You will receive a verification email shortly.
There was a problem. Please refresh the page and try again.