Crying Elephant Gets His Own Movie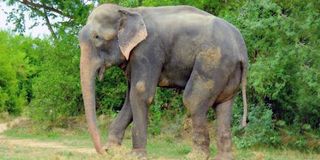 This week Dolphin Tale 2 will be bringing another true inspirational animal story into theaters. Soon to join the rehabbed dolphins Winter and Hope in the ranks of biopicked mammals is Raju, the elephant who cried.
Deadline reports that Raju will be the center of an upcoming drama. The elephant won the world's notice when a video about his release from torturous captivity hit the web. Check it out below:
Warning, the following video includes images of animal abuse that may be disturbing.
Producer Larry Brezner has purchased Raju's life rights with an eye toward developing the details of his torment and eventual daring rescue into a movie that is sure to pull at heartstrings. Father and son producing team Vijay and Prakash Amritraj will also be on the currently untitled project.
Larry Brezner began his career as a film producer in 1987 with the Billy Crystal comedy Throw Momma From the Train. Among his most noteworthy efforts are the Robin Williams vehicle Good Morning, Vietnam, the Tom Hanks-fronted dark comedy The 'Burbs, and the hot Kevin Hart comedy Ride Along. But as you may have guessed, Raju's story is not one likely to earn lots of laughs.
Held captive in India, Raju was abused for 50 years, kept in chains that tore at his flesh and prevented him from much movement at all. He was so underfed and dehydrated that he'd taken to eating trash--including paper and plastic. His tail had been plucked raw of all its hairs, which his owner sold as good luck charms. The same owner forced the elephant to beg on the streets for money and food. Finally, last July Raju was rescued from this horrendous existence and rushed to receive veterinary care. Befitting a plot point in an American movie, Raju reached the sanctuary on Independence Day.
Under the cover of night, a team from India's Wildlife SOS Conservation and Care Center swept in and essentially broke Raju out of his chains. It's a humane heist that snatched Raju away from his cruel owner and set him up in a sanctuary where he'd be safe, fed, and cared for. He also now has the advantage of the company of other elephants.
Under Larry Brezner's oversight, the human heroes of Raju's movie will be the head of the SOS Center in India Kartrick Satyanarayan and head of the Wildlife SOS Foundation Nikki Sharp. There's no word yet on who producers are considering for these roles. But more important at present is that Raju's happy ending is currently in question.
Remember, he was stolen from his owner. While animal rights activists argue that Raju needed to be freed to save his life, his owner is currently suing to have the elephant returned to him. The Indian government has filed animal abuse charges against the owner, but the question of whether or not he'll be able to reclaim Raju still lingers. Here's hoping the real Raju gets to stay in his Hollywood ending that includes a loving and safe environment far away from this tormenter.
Your Daily Blend of Entertainment News
Staff writer at CinemaBlend.