New DVD Releases: June 2016 In Home Entertainment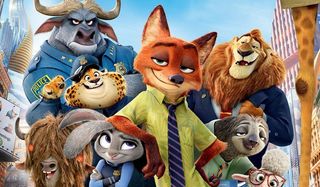 Finally, we are starting to get into a good groove in movies world. While the box office heats up with the big budget hits of the summer, here in the home entertainment world, there are a slew of quiet favorites coming out over the next few months. From cute likable movies such as Zootopia to fun TV favorites like the most recent season of Rick and Morty, there are quite a few releases that will make their way onto shelves and then into homes during June. As always, you can check out Digital, Blu-ray and DVD releases, below. Early Digital releases are noted separately from the hard copy release date.
If you're looking for the May releases, you can see them all here.
June 7
Zootopia Blu-ray
Disney's had quite a few winners over the last few years, bringing us princess movies, but also movies about monsters and video game characters. The company really hit the ball out of the park with Zootopia, its latest feature about a metropolis where predator and prey have learned to live together over time, only to find things go awry when prey start being attacked and predators start disappearing. The message of tolerance and not judging a book by its cover might be a little too sophisticated for the youngest of viewers, but the gentle lesson building doesn't feel forced within a plot that nods to some famous movies and features some excellent action scenes. The only thing that could possibly make this plot better is a catchy theme song from a big star like Shakira, and Zootopia has that too. Walt Disney Home Entertainment typically puts out a good Blu-ray, and Zootopia come with an additional DVD and Digital copy. In addition, there are a slew of bonus features, included deleted scenes and more. However, the cutest is likely "Z.P.D. Forensic Files," which gives you and the rest of the family the scoop on all of the hidden Mickeys in the movie. Grab your own copy on Amazon (opens in new tab).
Game of Thrones Season 3 And 4 Steelbook Blu-rays
The Game of Thrones: The Complete Third Season steelbook is not something you need, especially if you already have access to the third season of Game of Thrones via other means. However, are there myriad reasons for why this is the set you should purchase? Of course there are. The first is that Season 3 is arguably the most exciting season of the series, and features the Red Wedding and more. The second is that HBO wisely put together a sleek set with this Season 3 Blu-ray, which matches the Season 1 and 2 Blu-rays already released in the set. The metal casing features an attached magnet, this one focusing on The Twins for House Frey. The details don't end there, however, as there are a slew of bonus features present. The steelbook is especially nice if you have the ability to use the Dolby Atmos sound technology that is a part of this set. Plus, the 5-disc set comes with a Digital copy for even easier access. Again, Game of Thrones: The Complete Third Season is not something you need, but since the night is dark and full of terrors, you might as well have something comforting on your shelf. Order your own copy here (opens in new tab).
The Season 4 Blu-ray steelbook is also out today, and comes with a lot of similar features, including a fancy magnet, this time featuring The Wall. Digital copies and sound technology are included, just like with the Season 3 set. You can order your own copy of the steelbook here (opens in new tab).
Hail, Caesar! Blu-ray
The Coen Brothers rarely produce anything that is boring, and their latest Hail, Caesar! is a fun blend of catchy Hollyweird show tunes and eclectic plotting. The film centrally follows producer Eddie Mannix (Josh Brolin), who acts as a fixer within his own studio. During the course of the close to two-hour movie, he deals with problems related to Communism, cowboys, pesky journalists, period romances and even helping out a pregnant actress. With a solid but heavy-hitting cast including but not limited to Scarlett Johansson, Tilda Swinton, George Clooney, Channing Tatum, Frances McDormand, Alden Ehrenreich and Ralph Fiennes, Hail Caesar can feel a little busy, but it's certainly worth a watch. If you'd like to go a step further and own Universal Pictures Home Entertainment's set, you'll get a surprising number of bonus features along with a DVD and Digital copy. "Directing Hollywood" is a pretty good featurette—especially if you enjoy hanging on the Coen Brothers' every word—however, I generally preferred "Magic of a Bygone Era" which looked at the actual dance choreography in the film. Order (opens in new tab) your own copy of Hail, Caesar! today.
Star Trek II: The Wrath Of Khan Director's Cut Blu-ray
The Wrath of Khan is not a new movie. There are plenty of releases of the 1982 flick to choose from, but Paramount Home Media Distribution's latest release of the popular Star Trek film certainly features some details that help the title to stand out amongst its competition. First and foremost, it's a Director's Cut copy that also features the original theatrical version of the film along with a slew of other bells and whistles, including a brand new documentary feature. The cover was originally Mondo art and is a cut above the Blu-ray box art we normally get. But the real gem here for Star Trek II: The Wrath of Khan fans is that the film is available in High Definition, with three minutes of restored footage in the Director's Cut version. The studio made the transferal from the original negatives and holy heck does it look great. If you haven't caught The Wrath of Khan in a while, this set, released on the film's 34th anniversary, should be a great reminder of why we fell in love with the movie in the first place. Order your own copy here (opens in new tab).
June 7 Blu-ray and DVD Releases
Zootopia
Game of Thrones: The Complete Fourth Season Steelbook Blu-ray
Anomalisa
Rick and Morty: The Complete Second Season
Rizzoli & Isles: Season 6
The Shannara Chronicles: Season 1
Vinyl: The Complete First Season
Duck Dynasty: Season 9
The Other Side of the Door
Touched with Fire
Kill Your Friends
Mr. Right
The Confirmation
Never Back Down: No Surrender DVD
13 Hours: The Secret Soldiers of Benghazi
Jarhead 3
A War
Week of June 7 Early Digital Releases
The Beginning of Life
Midnight Special
June 14
London Has Fallen Blu-ray
As the sequel to the reasonably well-liked 2013 flick Olympus Has Fallen, I went into London Has Fallen hoping the sequel would surpass the first. The tone of the second film is similar to the first, but Babak Najafi's London Has Fallen does what a lot of sequels do and makes the plot bigger and bolder, taking our heroes to London for the Prime Ministers funeral. While there, President Benjamin Asher (Aaron Eckhart) and his #1 Secret Service guy Mike Banning (Gerard Butler) head to the funeral where terrorists attack the world leaders of many countries, causing chaos. The rest is a lot of gunfights and avoiding terrorists, propelled forward by this horrifically violent beginning. The result is an action-heavy narrative like the first flick that holds up on the small screen about as well as it did on the big screen. If that blatant, super macho sort of action is your thing, Universal Studios Home Entertainment's Blu-ray set comes with an addition DVD and a Digital copy, so you can watch the film on all kinds of platforms. Skip the bonus features, as London Has Fallen is not a film you would want to buy for the extras, anyway. Order your own copy, here (opens in new tab).
10 Cloverfield Lane Blu-ray
A follow-up of sorts with a loose connection to Cloverfield, 10 Cloverfield Lane is part horror film and part invasion movie, filled with enough suspense to keep me riveted to my seat for the flick's 103 minute runtime. Director Dan Trachtenberg's film follows Michelle (Mary Elizabeth Winstead), a young woman who is trying to reach her boyfriend on the phone when she is hit by a truck. She wakes in an underground bunker and is told by its residents Emmet (John Gallagher Jr.) and Howard (John Goodman) that the human race was under attack and the air is now contaminated. Should Michelle trust them? Does she have a choice? The fun thriller comes from J.J. Abrams' Bad Robot productions and was released on Blu-ray by Paramount Home Media Distribution, coming with a DVD and Digital copy. The shock value might wear off after viewing more than once, but if you haven't caught this one, you are bound to be delighted by the premise and the way the story plays out. Extras are nothing to drool over, although there are some intriguing insights from Trachtenberg and J.J. Abrams in the commentary. Order your own copy here (opens in new tab).
June 14 Blu-ray And DVD Releases
Eddie the Eagle
Get a Job
Ballers: The Complete First Season
Power: The Complete Second Season
X-Files: The Event Series
Underground: Season 1
Week of June 14 Early Digital Releases
Billions (opens in new tab) (June 13)
The Last Ship: Season 3 (June 13)
Whiskey Tango Foxtrot
The Brothers Grimsby Blu-ray
Sacha Baron Cohen's latest comedy The Brothers Grimbsy starts with a mattress gag and packs in a lot of jokes related to elephant penises and other jokes of a sexual nature. Other movies from the actor have also featured a lot of grossout humor, but this spy thriller takes it to the next level. Still, the relationship between Mark Strong's Sebastian and Sacha Baron Cohen's Nobby makes the plot of The Brothers Grimsby stronger than the films the comedian has cobbled together over the past. The two actors are a good match for one another playing long-lost brothers who work out their issues while trying to save the day. These performances are supplemented by work from Isla Fisher, Ian McShane and Rebel Wilson, not to mention there's a recurring joke about Daniel Radcliffe. The Brothers Grimsby often has its moments, but it may be a little too obscene for some audiences. Sony Pictures Home Entertainment's Blu-ray is pretty basic. A Digital version of the movie is included, but isn't advertised on the box. Extras are also standard and include a gag reel and deleted scenes. They are all pretty funny, and it proves we were saved from even more elephant semen in this movie. Catch all the penis jokes to your hearts content by ordering your own copy here. (opens in new tab)
June 21 Blu-ray And DVD Releases
My Big Fat Greek Wedding 2
How To Get Away With Murder: The Complete Second Season
The Hollow Crown: The Wars of the Roses
Midnight Special
Workaholics: Season 6
Week of June 21 Early Digital Releases
_Allegiant _
Miracles From Heaven
Whiskey Tango Foxtrot Blu-ray
It's important to understand right off the bat that Whiskey Tango Foxtrot is not a flat-out comedy, at least not in the sense that the trailers for the film would have had you believe. Instead, it's closer to a drama about a woman, Kim Baker (Tina Fey) who is dissatisfied with her life and decides to make a change, heading to Afghanistan to be a reporter in the early 2000s. She leaves behind her boyfriend, her former job and her gym membership to give the new gig a go and makes a lot of mistakes along the way. She also meets a lot of great people, including Tanya Vanderpoel (Margot Robbie), Ian MacElpie (Martin Freeman) and Fahim Ahmadzai (Christopher Abbott). The movie may not be exactly what we anticipated, but the Glenn Ficarra and John Requa film is still worth a watch. The Paramount Home Media Distribution title is actually the sort of movie that really benefits from bonus features. Based on a book written by real-life embed journalist Kim Barker, Whiskey Tango Foxtrot was shot with help from Barker herself and even the help of the US military, who gave the creative team insight on what was correct and incorrect with the script. If you liked the movie, you'll probably like the extras, too. Check out "War Reporter: The Real Kim" and "Embedded In Reality." Order your own copy here. (opens in new tab)
Other June 28 Blu-ray And DVD Releases
Kung Fu Panda 3
Precious Cargo
Whiskey Tango Foxtrot
Adventures in Babysitting
The Sound and the Fury
If you happened here while you were looking for a bunch of flicks heading into the theater, we can help you out. Head here to check out what movies are still coming out in 2016.
_Batman V Superman: Dawn of Justice _Ultimate Edition
Your Daily Blend of Entertainment News
Reality TV fan with a pinch of Disney fairy dust thrown in. Theme park junkie. If you've created a rom-com I've probably watched it.
Your Daily Blend of Entertainment News
Thank you for signing up to CinemaBlend. You will receive a verification email shortly.
There was a problem. Please refresh the page and try again.