Dances With Wolves Sequel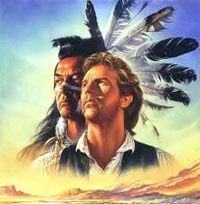 Dances with Wolves is about to get a sequel. Variety says Simon Wincer has been hired to direct it, probably because he has a thing for Westerns. While Wincer has been responsible for a lot of crap (Free Willy for instance), he's also been behind some great Western genre dramas like Quigley Down Under and the legendary TV miniseries Lonesome Dove. He may not have been the right man to direct Crocodile Dundee in LA, but he's the right man for this.
The followup, which they're calling The Holy Road, is written by Michael Blake, who wrote the first movie as well as the two books on which it's based. The sequel will pick up eleven years after the events of the first movie, with the Comanches in decline as white settlers continue to overrun their territory. Things take a turn for the worse when the railroad moves in, and the trains are expected to be used as a sort of symbol for the clash of civilizations happening on the American frontier.
There's no mention of whether Kevin Costner would be involved, or if indeed there's even a part for his character. If there is a place for him in the script, it's hard to imagine Costner not being in it, particularly with his well known affection for the Western genre. If Stallone can still play Rambo, then why not let Costner grow out his mustache and play John Dunbar again?
Your Daily Blend of Entertainment News