Daniel Craig, Crew Member Injured On The Spectre Set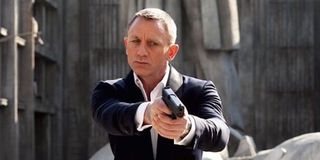 Production is well underway for the upcoming James Bond film, set to hit theaters later this year. Like the franchise installments that have come long before it, Spectre is bound to have its own share of problems, which might be noticeable after production. However, with recent news that second assistant director Terry Madden was injured in an accident on-set, only weeks after Daniel Craig himself, it looks like issues have even begun springing up during the shooting of the film itself.
Madden, who also worked on all of the previous Daniel Craig-led James Bond films (Quantum of Solace, Casino Royale and Skyfall), has reportedly suffered some pretty rough injuries, which according to THR, consist of multiple fractures in his leg. The news comes a little more than a week after Bond star Craig was the victim in an accident while shooting at Pinewood studios in Buckinghamshire, UK. Craig also suffered a leg injury, although his was less severe in that it was only a knee sprain, while filming a fight scene for the upcoming action thriller.
Some would argue that a few minor injuries are more than likely to occur while making a film like this, being that it is filming across several locations in Europe including London, Rome and Austria. A view of the 24th James Bond film's recently released minute-and-a-half long Spectre featurette, shooting in the mountains of the lattermost will certainly back up that notion.
Just look at the severity of the location. Operating gear and driving vehicles on the edge of a mountain ins't exactly something you encounter while shooting just any ordinary film. Hearing the cast members discuss the difficulties working in remote locations with bad weather and high altitudes only adds validity to the view. Nonetheless, it should provide for beautiful scenery, breathtaking visuals and edge-of-your-seat excitement.
On the flipside, with recent reports of Spectre's future shooting location, Rome, being in a "graffiti-ridden" state, we may end up seeing a different side of Italy's capital than we're used to seeing on the big screen. Let's just hope there are no broken bones, right? Sure it's okay if Bond is dealt a few blows, but we need Craig in peak physical condition to fully embody the secret agent to his fullest potential.
Spectre, which landed on our list of most anticipated movies of 2015, follows Bond as he follows a cryptic message from his past, propelling him down a path to uncovering a most sinister organization. The upcoming installment is directed by Sam Mendes and stars Daniel Craig,Christoph Waltz (Oberhauser), Ralph Fiennes (M), Monica Bellucci (Lucia Sciarra), Lea Seydoux (Madeleine Swann), Andrew Scott (Denbigh) and Dave Bautista (Mr. Hinx). It hits theaters November 6, 2015.
Your Daily Blend of Entertainment News