Daniel Craig's Preparation To Play James Bond Is Insane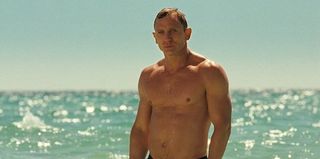 If you get hired to play a legendary character like, say, James Bond, you don't want to screw it up and have the whole world mad at you. Though the latest actor to play the iconic super spy, Daniel Craig, was an unpopular choice at first (Oh my gawd, he's blond!), he's won over most of his critics. But he didn't just fall backwards into the character, he busted his ass to prepare.
Coinciding with the release of Spectre, Michael G. Wilson, a producer on the James Bond films, sat down with The Hollywood Reporter to talk about everything from the new movie to whether or not Craig will be back for more. This new iteration of Bond is more physical than he's ever been on screen before, and Wilson revealed the extreme measures Craig took to get that part of the character right.
Such a monastic lifestyle is exactly the opposite of what most of us think about when we consider James Bond. We envision him decked out in a sharp suit, out until the wee hours, carousing with sultry femme fatales, a martini always in hand, and somehow still always looking good because he's Bond, James Bond. Turns out it takes a little more work for everything to come together than it appears on the surface. You have to hand it to Daniel Craig, he makes it look easy, even when it most certainly is not.
The latest James Bond adventure, Spectre, opens today in the U.S., and is already poised to make a mint at the box office. It did $5.25 million in business on early shows last night, and experts predict that it could break the $100 million barrier in its first full weekend. This haul from last night is even bigger than 2012's Skyfall, which went on to earn more than $1 billion worldwide (though the reviews of Spectre haven't been as across-the-board glowing, so it might not have the same kind of legs).
Spectre has been in U.K. theaters for the past week, debuting with record breaking box office numbers, and that, coupled with a big U.S. opening, has to be music to Sony and MGM's ears. The movie reportedly needs to earn $650 million worldwide in order to just break even, and this certainly goes a long way toward meeting that lofty goal.
Your Daily Blend of Entertainment News
Thank you for signing up to CinemaBlend. You will receive a verification email shortly.
There was a problem. Please refresh the page and try again.