Daniel Day-Lewis Is Now The Only Person To Ever Win Three Best Actor Oscars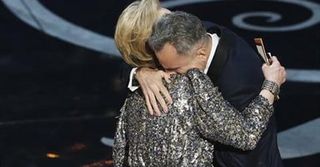 In an evening filled with heartfelt but very straightforward acceptance speeches, with even the likes of Anne Hathaway keeping it low-key, it was fantastic to see Daniel Day-Lewis accept his third Oscar with not just some fantastic jokes, but genuine emotion. He's the first person ever to win three Best Actor statues, but from the way he cradled that award in his hand you'd think it was his first ever.
Of course, by now Day-Lewis is more than comfortable up there on the Oscar stage, and he pulled off joke about how he had originally been cast in Meryl Streep's Oscar-winning role in The Iron Lady, and that she had been Steven Spielberg's first choice for Lincoln. Day-Lewis cracked he'd like to see that version, and I think we can all agree on that one. After thanking his wife for living with all the eccentric characters he's played over the year, he dedicated his award to the three men he said he couldn't have done it without: screenwriter Tony Kushner, director Steven Spielberg, and of course, Abraham Lincoln himself.
There was no question that Day-Lewis would take home Best Actor for his Lincoln performance, but his humble acceptance speech-- he called his fellow nominees "my betters"-- meant no one could really begrudge him for it. Hopefully some day Joaquin Phoenix, Bradley Cooper, Denzel Washington and Hugh Jackman will be lucky enough not to do their best work in a year when Daniel Day-Lewis is out there proving just how amazing acting can be.
For the full list of the Oscar winners, you can click here, and keep coming back for much, much more Oscar coverage where this came from.
Photo Credit ©ABC
Your Daily Blend of Entertainment News
Staff Writer at CinemaBlend