Danny Huston Joins Amy Adams And Christoph Waltz For Tim Burton's Big Eyes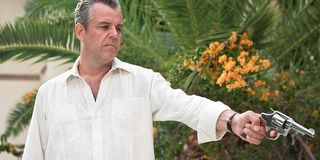 You may not know the name Margaret Keane, but there's a very good chance you're familiar with her work. If you Google her name, you're sure to immediately recognize her trademark style of painting women and children with big, big eyes. These works became quite popular in the 1950s and '60s, and ultimately won her famous fans like Joan Crawford, Natalie Wood, and Tim Burton, each of whom commissioned portraits from her. (The first two asked for portraits of themselves, while Burton had one made of his former long-time partner, model Lisa Marie.) However, despite her successes, Keane's life was plagued with problems... well, one problem that created others. To put it simply, that problem was her husband. And this struggle is slated to be at the center of Burton's in-the-works biopic about the influential artist.
With a screenplay by Ed Wood scribes Scott Alexander and Larry Karaszewski, Burton aims to tell the story of Margaret and Walter Keane, the former an artist who risked having the credit for her work snatched away by the latter, a manipulative brute. Burton has already pulled together an intriguing cast. Four-time Academy Award nominee Amy Adams and two-time Academy Award-winner Christoph Waltz are set to front the film as the not-so-happy couple. Don't Trust the B---- in Apartment 23 star Krysten Ritter has fulfilled her dark hair, doe-eyed destiny by joining the Burton pic as a confidante character to Margaret named DeeAnn. And today Danny Huston has become the latest cast member to commit.
Huston, who is currently a recurring player on the Starz drama series Magic City, entered into negotiations for Big Eyes late last month. Deadline reports Huston has now officially signed on, and is now set to play Dick Nolan, who is described as a "burnt-out, heavy-drinking gossip reporter." The character of Nolan sounds like trouble, and with Huston's unique blend of boyish charm and reckless swagger, he seems a great fit for the part. Get a glimpse of him in action in the Magic City trailer below. (Language NSFW)
I've reluctantly confessed before that Burton has offered so many blah movies of late that I struggle to get excited when he announces a new project. However, he seems to be shaking out the routine that has made him a painfully predictable filmmaker. So far Big Eyes does not include his too often recurring collaborators Johnny Depp and Helena Bonham Carter (they are both terrific on their own, but when their powers combined it's more often than not a fanciful mess). And at last Burton's not reworking some familiar tale with his standby buckets of black and white spiral set dressing.
Re-teaming with the writers from the wacky yet wonderfully tender Ed Wood seems a smart strategy. Considering Keane's artistry has clearly been an impact on Burton's own work as Wood's was, Big Eyes could be a film more in line with Ed Wood than Dark Shadows, which would be a major step in the right direction. Could this film mark a new stage in Burton's career? It is way too soon to say, but here's hoping.
Staff writer at CinemaBlend.
Your Daily Blend of Entertainment News
Thank you for signing up to CinemaBlend. You will receive a verification email shortly.
There was a problem. Please refresh the page and try again.