The Dark Knight Rises Official Full Trailer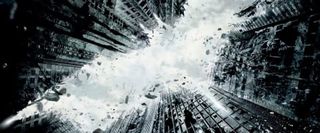 After premiering in front of Mission: Impossible - Ghost Protocol over the weekend, and popping up in various bootleg forms almost immediately after, the full theatrical trailer for The Dark Knight Rises has gone online in glorious HD. Get a look at Bane's attack on a football game, Catwoman's masquerade ball mask, Alfred's regrets for not protecting Bruce Wayne, and the most intense touchdown run ever seen in professional football.
Watch it below or in HD on Apple (opens in new tab).
I stand by what I said earlier this morning about the sound being the most effective part of the trailer-- the chants that have been part of the viral marketing campaign since the summer are even more intense when paired with images of the actual inmates breaking out of the asylum, and the trailer uses just enough of Hans Zimmer's iconic score to get you in the mood. And while as a general rule kids singing "The Star Spangled Banner" bore me, it makes for an excellent contrast here-- even though I hope that kid doesn't appear in the movie at all.
One big question about this trailer though-- where the hell is Batman? Yes, we see a little bit of Christian Bale in Bruce Wayne form, but he still has very few lines, and from the looks of this trailer Gotham is thrown into chaos by Bane and Catwoman while Batman does just about nothing. Combining that with Gothamites dismissing the importance of Commissioner Gordon, and things are looking very grim indeed.
Let us know what you thought of the trailer in the comments. The Dark Knight Rises opens July 20 next year.
Staff Writer at CinemaBlend
Your Daily Blend of Entertainment News
Thank you for signing up to CinemaBlend. You will receive a verification email shortly.
There was a problem. Please refresh the page and try again.