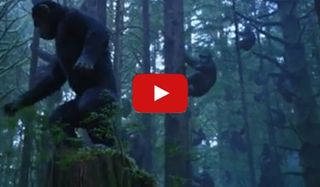 The Apes are coming, and you're a damned fool if you think you can do anything about it. The summer's 800 lb. gorilla is (almost) a literal one, and it's Dawn Of The Planet of The Apes. The sequel is beginning its final leg of marketing, and with that comes a brand new trailer, hitting ahead of the film's July 11th opening.
It's a pretty stark look at the new ape world. Whatever's left of humanity isn't much in the shutdown of our infrastructure in the wake of Rise Of The Planet Of The Apes, which according to this trailer, was four years ago. Regardless, it appears Dawn Of The Planet Of The Apes is going to depict pockets of peace, with a happy, loquacious (!) band of apes living off the land and slowly building their own societies.
Since the moment the film was announced, there has been confusion centered on who would really be the lead character, but it looks like there might be an even share between Jason Clarke and Andy Serkis. Serkis is of course reprising his role from Rise Of The Planet Of The Apes as Caesar, who apparently has some misgivings about the fairly-extreme tact the apes have taken in basically wiping out civilization. He even misses home, judging by the brief snippet of footage he watches on a camcorder of his former friend Will Rodman (James Franco, making an oopsie cameo).
Jason Clarke's character is simpatico with Caesar and sees peace on the small planet between the two of them. However, the humans seem divided between his rhetoric and the fire-and-brimstone hatred that comes from Gary Oldman, here infuriated by the ruthlessness of the apes in decimating his world. It's an interesting conflict: how far can you pursue peace before you're wiped out? It's never a one-to-one correlation: Clarke and his fellow ape peaceniks are likely at the mercy of whatever militaristic tactics are employed by Gary Oldman's people. Guns, guns, guns!
Dawn Of The Planet Of The Apes roars into theaters following a fairly weak July 4th slate that includes Deliver Us From Evil, Tammy and the second weekend of Transformers: Age Of Extinction. Opening against the film is the Michael Douglas/Diane Keaton counterprogrammer And So It Goes and the standup comedy picture The Fluffy Movie, neither of which are expected to do blockbuster numbers. With marketing material like this and a 3D boost, the film is a sure bet to top the $54 million taken during the first film's opening weekend.
Your Daily Blend of Entertainment News