De Niro Confirms I Heard You Paint Houses With Scorsese, Pacino And Pesci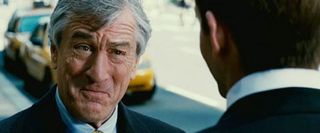 For anyone that keeps an eye on movie development news, you know that sometimes stars say things that aren't exactly true or talk about potential projects that aren't guarantees in the least. Well, that's kind of what we have here, but the fact that the news comes from Robert De Niro certainly gives the information a great deal of authenticity. When the guy talks, you just believe him.
We heard a little about Martin Scorsese's plan to direct a film version of Charles Brandt's book I Heard You Paint Houses with De Niro starring, way back in October 2008. Since then, it's merely been rumblings of Joe Pesci and Al Pacino's potential involvement. Well, now the foursome seems like a sure thing because while promoting his upcoming film Limitless, De Niro flat out said:
Still not quite convinced? De Niro had a feeling. The actor also added, "I'd never say it if I didn't really fully have us all, you know, committed."
De Niro didn't mention when the camera might start rolling, but when it does, he'll be playing Frank "the Irishman" Sheeran, a man who put his violent side to use during World War II only to return to the states to become a hit man working closely with notorious mob boss Russell Bufalino. It's Bufalino that put Sheeran in touch with Jimmy Hoffa, kicking off their friendship. When Hoffa disappeared, Sheeran was a top suspect.
The materials are there, the film's got a fantastic director and cast, now we've just got to wait for that green light. While I'm always hesitant of being prematurely optimistic, who argues with De Niro? My money is on this film happening sooner rather than later.
Your Daily Blend of Entertainment News
Staff Writer for CinemaBlend.