The Dead Rising: Watchtower Movie Is Coming, And This Is Who It'll Star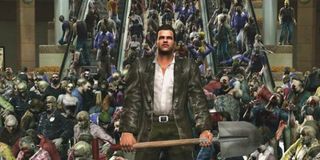 You might know Dead Rising as a video game where players are charged with surviving a world ruled by zombies relentlessly on the hunt for human flesh! Well, prepare to know Dead Rising as the beginning of a franchise that's looking to blend horror and humor.
Coming Soon reports the feature-length, straight-to-VOD Dead Rising: Watchtower has announced its cast. And it's a curious ensemble.
Fronting the film from Legendary's Digital Media division will be Rob Riggle, the Daily Show correspondent who has stolen scenes in such big screen comedies as 21 Jump Street, 22 Jump Street and Let's Be Cops. Riggle will lead the cast as photojournalist Frank West, the hero from the Dead Rising video game. Actress Keegan Connor Tracy, who has recently scored recurring roles on Bates Motel and Once Upon A Time will play Jordan, "a straight-laced journalist." The brawny Aleks Paunovic of This Means War will portray a hardened biker gang leader named Logan, while Canadian comedian Harley Morenstein will be Logan's second-in-command, who has the ominous name Pyro.
Morenstein recently had a small role in Kevin Smith's Tusk, but you get a better feel for his unique skillset watching the Youtube star's webseries "Epic Meal Time." Want to learn how to make poutine dumplings like a badass? Done.
Rob Riggle, Keegan Connor Tracey, Aleks Paunovic, and Harley Morenstein join a cast that already included Jesse Metcalfe (Desperate Housewives), Meghan Ory (Once Upon a Time), Virginia Madsen (Sideways) and Dennis Haysbert (Dear White People). Notably, Coming Soon makes no mention of Dead Rising: Watchtower being a horror-comedy. But considering Riggle has forged his career by hurling his burly physique into goofy and outlandish circumstances, we'd bet that's the route Legendary is taking with this adaptation. The addition of Harley Morenstein is just epic gravy.
Penned by Tim Carter, Dead Rising: Watchtower will focus on this motley crew of bikers and journalists making their way through a world besieged by a wide-scale zombie pandemic. While fighting off flesh-munching hordes, this foursome must trace the source of this deadly (and undeadly) outbreak. When signs begin to point to government conspiracy, politics, paranoia and the role of the media all comes into play.
With its intriguing cast and a familiar--but often effective--concept, Dead Rising: Watchtower sounds like it could be a biting new entry into the zombie horror subgenre. It's currently in production, and when ready for its debut will premiere on the streaming movies site Crackle.
Your Daily Blend of Entertainment News
Staff writer at CinemaBlend.