New Deadpool Clip Offers A Ton Of Explosive Action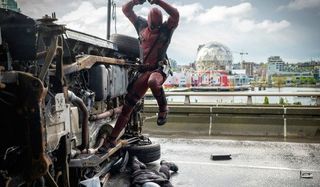 If you're not really excited about Deadpool, you should be. Not only does it look irreverent and hilarious, but it's going to be packed to the brim with action sequences that should be more gruesome and extreme than standard comic book fare considering its mature rating. Still need convincing? Then take a look at the clip below, which should do a perfect job of increasing your excitement exponentially.
Considering Deadpool's apparently meager budget, especially in comparison to other superhero films, the above trailer suggests that its finances have been stretched rather wisely. The action sequences, explosions, destruction, and all around spectacle looks to be top notch. That's despite the fact that Deadpool dangling in mid-air way above the ground did immediately reminded me of Avengers: Age Of Ultron. Hopefully it'll be a tad more enthralling than Joss Whedon's ultimately mundane blockbuster though.
One reason why it probably will be more entertaining is the titular character himself. Deadpool's rather ingenious promotional campaign, which has been drawing praise across the cinematic community for its quirkiness, has made sure to highlight just how outlandish the anti-heroic superhero is.
The above video is no different, with Ryan Reynolds' making a joke about his fly being undone, while then dropping some rather delightful dance moves as he jostles with some bad guys. It's hopefully going to be unlike any other comic book film before it, and one that speaks to and connects with comic-book fans on a different level to its peers. Need more convincing? Well, watch the most recent red-band trailer.
Another reason for excitement is that it's about time someone got the very best out of Ryan Reynolds. While it's hard to pity a man who has been married to both Scarlett Johansson and Blake Lively, the devilishly charismatic and funny Reynolds has never been provided with a character that's allowed him to effortlessly emanate these qualities.
Even his previous portrayal of Deadpool, in X-Men Origins: Wolverine, felt watered down. But this incarnation should finally right that wrong. And we now only have just over a week to wait until it's with us. That's because Deadpool will be released on February 12.
Your Daily Blend of Entertainment News