Check Out The Deadpool Jokes That Were Too Filthy For The Movie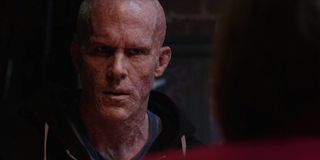 Deadpool is almost a week away from release, and if there's one thing we've learned about the movie after months of previews and marketing, it's that this isn't a superhero adventure for the kiddies. Having earned an R rating earlier this month, it's not only featuring hardcore violence and gore, but also plenty of vulgar humor, which is always fitting for a Deadpool story. Still, we've heard about how one scene was toned down for the final cut, and now we have a few specific examples of too-offensive jokes that were axed.
Having been talked to by 20th Century Fox beforehand, T.J. Miller, a.k.a. Deadpool's Weasel, was hesitant to go into full detail about the February blockbuster's harsher material, but he did give a few examples of dark jokes that didn't make the cut to IGN. They included:
As you can tell, these are some grotesque sights, and Miller admitted that they were left out of the movie because they were "physically difficult to imagine." The actor didn't provide specific context for how these lines were used, but following later comments about how he riffed with Ryan Reynolds during filming, it's easy enough to tell that they were among the comments that Weasel exclaims upon seeing Wade Wilson's gruesome face for the first time. Not to worry, though, as the trailers have shown that Weasel will still have plenty of snide comments about his best friend's visage. For instance, he tells Wade that his face looks like an avocado that had sex with an older avocado.
As for the other jokes left out, Miller attributed them to being "too ridiculous," and director Tim Miller evidently thought some of these other jokes were "too obtuse" and figured not everyone would be into them. One joke did make it into the final cut that Miller was surprised by wasn't one of those physically disgusting lines, but actually a sharp insult. It was:
That's obviously not as graphic as the earlier jokes, but yeah, I could see how that could be seen as too dark. While audiences won't get to hear a portion of these jokes on the big screen, there may still be hope for them, as a director's cut of Deadpool is coming later this year. Then fans will get to relish in the filthiness of this humor in the comfort of their home if they choose. As for the theatrical release, there will be a lot of boundary pushing material sprinkled through the Merc with a Mouth's spinoff for moviegoers to chew on.
You can check out some of the more exciting superhero trailers in the video below.
Deadpool hits theaters on February 12th.
Your Daily Blend of Entertainment News
Connoisseur of Marvel, DC, Star Wars, John Wick, MonsterVerse and Doctor Who lore. He's aware he looks like Harry Potter and Clark Kent.
Your Daily Blend of Entertainment News
Thank you for signing up to CinemaBlend. You will receive a verification email shortly.
There was a problem. Please refresh the page and try again.