Dennis Rodman's Trips to North Korea Inspire A New Comedy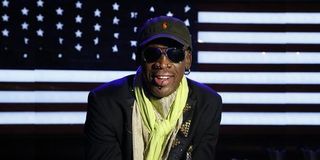 A significant event in Dennis Rodman's life is about to inspire a new film, but it has nothing to do with basketball, Carmen Electra, or Double Team 2, much to our chagrin.
"Offense wins the glory," once spoke the great Jean-Claude Van Damme, hero of heroes of the silver screen. At the time, though, he was teamed with an equally impressive legend, Rodman, who spoke forth, "But defense wins the game." Rodman lived that philosophy to the fullest during a Hall Of Fame career, becoming one of the league's all-time greatest rebounders and defensive players and one who was hugely responsible for Michael Jordan's second wave of three championships in a row. Rodman, the wily veteran, soon embarked upon a post-basketball career of opportunist celebrity, charging people to watch webcams of his house, making dubious reality television programs, and failing to give the people what they want: Double Team 2.
Now, the latest and most unusual part of his post-career life is going to become fodder for a big screen movie. THR reports that FOX has purchased the comedy pitch Diplomats and has attached Tim Story to direct. Diplomats will follow the unlikely relationship between Rodman and North Korean dictator Kim Jong Un. Last year, Rodman held basketball exhibitions in North Korea where he met Kim, calling him, "A friend for life" (!) and a "great dad" (?) This blossomed into an exhibition basketball tour, with Rodman leading a group of retired (and broke) former NBA players on a "peacekeeping" mission between countries. Later, Rodman would become a lightning rod by appearing on American television, completely soused, implying that Kim's illegal detainment of an American journalist was just.
Like a lot of what Rodman does, it was ultimately a little sad. As beloved as he was on the court (and as delightful as he could be off it: see Double Team), the whole thing felt like a bit of a charade, an opportunity for North Korea to use American personalities to further their agenda. Rodman's constant cash grabs have seemed more and more desperate, and it's hard to believe that he didn't fatten his pocket considerably by embarrassing himself on CNN. There are also the individual stories of the players on the diplomatic trip with him, several of whom had their own personal demons to battle post-retirement: checking out the post-career exploits of Kenny Anderson especially will lead you down a black hole.
Story, meanwhile, is heavily in-demand. The Barbershop filmmaker once tried his hand with big budget spectacle and the result was Fantastic Four. He's refocused his energies by returning to the well of mid-to-low budgeted black-starring ensemble comedies. His Ride Along was so successful that a sequel is shooting this summer. And he's about to unleash Think Like A Man Too, following the heels of that first film's $91 million domestic take. It's good to be Tim Story right now, and if development moves quickly enough, we could be seeing Ride Along 2 and Diplomats by next spring.
Your Daily Blend of Entertainment News
Thank you for signing up to CinemaBlend. You will receive a verification email shortly.
There was a problem. Please refresh the page and try again.