The Departed Scribe To Adapt John Le Carre's New Novel A Delicate Truth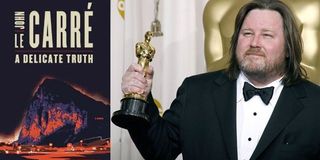 Next month will see the release of British author John le Carré's latest spy novel, A Delicate Truth, and already this book is set to join the ranks of le Carré's adapted works, like The Spy Who Came In From the Cold, The Constant Gardener, and Tinker Tailor Soldier Spy. Deadline reports The Ink Factory, the production company behind the recently-wrapped adaptation of le Carré's A Most Wanted Man, has acquired the rights to A Delicate Truth, and is close to finding a screenwriter to adapt it.
William Monahan is reportedly close to signing on to the job. Considering he's best known for adapting the Hong Kong thriller Infernal Affairs into an Academy Award-winning screenplay for the Martin Scorsese-helmed crime-drama The Departed, Monahan seems an excellent pick for this particular project.
A Delicate Truth begins in 2008, and follows a counter-terrorist operation, codenamed Wildlife, that aims to capture a very dangerous jihadist in pursuit of deadly weapons. Involved in this mission are one eager Foreign Office Minister, his trusted friend who is a private defense contractor, and an evangelical conservative American CIA operative. From there the story picks up in 2011 Cornwall, where what went down during Operation Wildlife is under scrutiny, forcing its operatives to some disconcerting decisions.
The novel will hit shelves on May 7th. At this time, no projected release date for its movie version has been set. But in the meantime, we have A Most Wanted Man to look forward to as well as the gritty noir Sin City: A Dame To Kill For, which Monahan co-wrote with director Robert Rodriquez and graphic novelist Frank Miller. The former is expected to hit theaters this fall; the latter will open in the US on October 4th.
Your Daily Blend of Entertainment News
Staff writer at CinemaBlend.
Your Daily Blend of Entertainment News
Thank you for signing up to CinemaBlend. You will receive a verification email shortly.
There was a problem. Please refresh the page and try again.