Did The Golden Globes Just Push Steve Jobs Back To Oscar Frontrunner?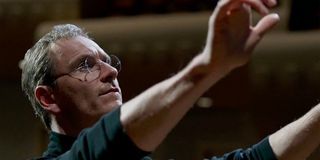 Kate Winslet and Aaron Sorkin's Golden Globes wins in the Best Supporting Actress and Best Screenwriter categories have rejuvenated Steve Jobs' Oscar campaign. Which, despite the prestigious talent involved in the film, was actually assumed dead.
Back in October, Steve Jobs bombed at the box office. It was also met with a gently impressed -- rather than joyously euphoric -- critical response, all of which pointed towards the Apple biopic being overlooked when it came to winning gongs over the next few weeks.
But the Golden Globes has changed all that. First of all, the evening started off with Kate Winslet picking up the Best Supporting Performance in a Motion Picture Supporting Actress award. In order to get her hands on this accolade Winslet had to defeat star-studded competitors in the shape of Youth's Jane Fonda, The Hateful Eight's Jennifer Jason Leigh, Trumbo's Helen Mirren, and Ex Machina's Alicia Vikander.
Honestly, each performer would have deserved the Golden Globe award, as it was one of the most even Best Supporting Actor fields for years. There was no sign of a clear winner. Still, there were slight favorites for the prize. And Winslet wasn't one of them.
In fact, alongside Alicia Vikander's performance in Ex Machina, which I actually believe is inferior to hers in The Danish Girl, Winslet's Steve Jobs portrayal was deemed as a genuine outsider for the gong. There was a feeling that nostalgia would give Jane Fonda's sublime Youth performance an edge, while you can never rule out the sumptuous Helen Mirren.
But the true favorite was Jennifer Jason Leigh. Not only because her performance in the gorgeously gory Quentin Tarantino western was sensational, but a Tarantino script always seems to give actors from his films that are nominated an advantage.
The fact that Kate Winslet was able to beat out Jennifer Jason Leigh for the prize suggests that Steve Jobs is going to be a main contender in the supporting actor categories come Oscar season. This was then underlined even further by Aaron Sorkin's victory for Best Screenplay.
Sorkin's victory in this category is actually even more impressive, simply because it was deemed as a straight fight between The Hateful Eight's Quentin Tarantino and Spotlight's Tom McCarthy and Josh Singer. Spotlight is currently on a roll that has seen it become an Oscar front-runner, while Quentin Tarantino's scripts are littered with such rich, ingenious dollops of cinematic delight that awards seasons line-up to reward him whenever they are released.
Somehow, Aaron Sorkin managed to beat these films, as well as Room's Emma Donoghue and The Big Short's Charles Randolph and Adam McKay. Sure, the guy is obscenely talented, but Steve Jobs' poor box office and rather mediocre critical performances meant that it had mostly been forgotten. Instead, alongside Winslet's triumph, Sorkin has confirmed that Steve Jobs will probably be in the mix at the Oscars after all.
Your Daily Blend of Entertainment News
Thank you for signing up to CinemaBlend. You will receive a verification email shortly.
There was a problem. Please refresh the page and try again.