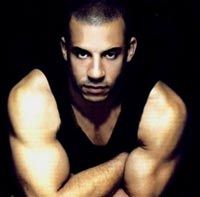 It's hard to find a good muscleman. Yet another pumped up actor has stopped a production. Vin Diesel (best known as the star of The Pacifier and the inventor of daylight savings time) has pulled out of the upcoming Accent Pictures movie Black Water Transit according to Reel Chicago.
The film, which was to co-star Kevin Bacon and James Franco, tells the story of a group of criminals, cops, and lawyers as they collide over a shipment of guns and a double homicide. Vin was supposed to play Earl Pike, a crook trying to get his family's illegal gun collection to safety. The movie is supposed to cost $30 million, and with that kind of money at stake Accent says they'll resume work on the film once they recast Diesel's role. For now though, Black Water Transit has ground to a halt. They were supposed to start shooting in Chicago on July 31st.
For Vin, this doesn't mean he'll be out of work. He's got four other projects already on his schedule including an epic version of the life of Hannibal, a movie adaptation of the videogame Hitman, and two separate Sci-Fi thrillers: Babylon A.D. and Rockfish.
Your Daily Blend of Entertainment News