Director Genndy Tartakovsky Unveils A Sneak Peek At Hotel Transylvania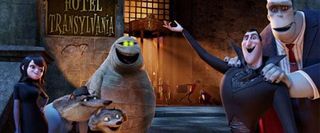 What can you expect from Sony Pictures Animation's Hotel Transylvania? Candy eyeballs, gummy worm-topped cakes and fogging drinks, of course! Okay, you probably shouldn't have your hopes up for all of that, but come September 28th, Hotel Transylvania should offer up all the fun you'd hope for in a comedy packed with animated versions of your favorite mythical monsters.
However, it's not September 28th just yet, so in an effort to get us in the Hotel Transylvania spirit, just like in the movie, the folks behind the film planned a 118th birthday party for Mavis, Dracula's daughter and the character voiced by Selena Gomez. There were party hats, appropriately themed treats, the opportunity to take a photo with Dracula's hotel in the backdrop and more. As much fun as the party portion of the event was, it was easy to leave behind as a sneak peek of the film awaited us in the theater.
Producer Michelle Murdocca was on hand to introduce us to Genndy Tartakovsky, the creator of the TV shows Dexter's Laboratory, Sym-Bionic Titan and Samurai Jack, and now the director of Hotel Transylvania. Tartakovsky showed off his star-studded voice cast, which includes Adam Sandler as Dracula, Gomez as Mavis, Andy Samberg as Jonathan, Kevin James as Frankenstein, Fran Drescher as his wife Eunice, Steve Buscemi as Wayne the werewolf, Molly Shannon as Wayne's wife Wanda, David Spade as the Invisible Man, Cee-Lo Green as Murray the Mummy and Jon Lovitz as the evil chef Quasimodo.
Working in television, Tartakovsky is used to recording his entire voice cast simultaneously and while he didn't have that luxury the entire time on Hotel Transylvania, he did make that a priority as often as he could. "We actually got to do a few sessions and for one of our first sessions we had Kevin James, Adam Sandler, Andy Samberg, Molly Shannon, David Spade and it was great." Tartakovsky continued, "Everybody playing off each other, adlibbing, and it brought this great energy."
Tartakovsky describes the film as having "a broad comedy tone with a strong emotional heart." Of course something like that would arise through the script, but it's also heavily connected to the style of animation. Tartakovsky set out to take the traditional principles of feature animation and push them in a way to end up with something notably expressive and caricatured using strong silhouettes and very lively faces.
Before jumping into the clips, Tartakovsky set the stage. "Dracula builds this hotel for his daughter to keep her safe, away from humans and being a teenager, she, of course, doesn't listen to dad and she wants to find out how the world is outside the hotel for herself." After quite a bit of nagging, Dracula strikes a deal; on Mavis' 118th birthday, she can go out and check out the world for herself. In the first clip of the presentation we find Mavis in her room, sure her father will go back on his word, but to her surprise, he actually gives her permission. Within seconds Mavis is packed and ready to go, transforms into a bat and prepares to take flight, but that's when Dracula can't help but to put his foot down, claiming so many people have come to attend her birthday party; she can't leave just yet. When Mavis' gives him a wildly adorable "pouty bat face," Dracula attempts to strike another deal; for now, she can visit the human village just outside the hotel. The thing is, there's no human village around the corner. Tartakovsky explained, "He builds a fake human village and puts all the zombie staff and dresses them up as humans to scare her."
The plan works and Mavis is back at the hotel, safe and sound, but soon thereafter, Dracula must deal with another issue – a human at the hotel. We roll into a clip showing what happens when Jonathan first enters Hotel Transylvania. The lobby is bustling with activity, but Dracula is the only one to notice the unwelcomed visitor. He tries to conceal a naive Jonathan's identity by dressing him up as a monster, but when Jonathan realizes all of the guests aren't playing dress-up and are the real deal, he freaks out, bumping into one creature after the next before coming face to face with Mavis. The two share a moment involving glistening pink sparkles in their eyes before Dracula plays the overprotective father and puts an end to it.
But now Dracula can't just give Jonathan-turned-Johnnystein the boot so he spins a lie, dubbing Jonathan the new party planner. "Dracula's world is unraveling right before him," Tartakovsky explained. "All the little events, Jonathan has an effect on and people are actually starting to have fun." Sure Dracula wants his guests to have a good time, but only if it means having fun while playing by his own rules. When Dracula's had enough of Jonathan's games, he forces him to leave, bringing us to scene three, a moment between Jonathan and Dracula in the cemetery. Dracula attempts to wipe Jonathan's memory before sending him on his way, but when it doesn't work, Jonathan suggests it might be because of his contact lenses and we get an amusing moment during which Jonathan creeps Dracula out by continuously jabbing at his own eye, trying to grab his lens. After reverting to simply threating to suck all of Jonathan's blood until he looks like "a deflate whoopee cushion," Dracula leaves him only for Jonathan to be escorted back inside by Mavis.
When Dracula catches Jonathan back in the hotel, he isn't happy, but figures he might as well put him back to work, instructing Jonathan to arrange the ballroom for the party. The fourth scene of the presentation showcases an action-packed table chase sequence with Jonathan and Dracula. Yes, a table chase sequence. Dracula makes Jonathan's first duty to arrange the tables. When Jonathan resorts to pushing them around the room, Dracula opts to show him how it's done, calling the tables by number, waking them up and telling them where to place themselves. Eventually Jonathan catches on, but rather than order the tables as instructed, he takes them for a ride. Ultimately we end up with a room full of tables floating in the air, Dracula and Jonathan bouncing from one to the next, zipping around on a few before coming to a crashing halt upon which Dracula recognizes the fact that Jonathan helped him have some fun.
To wrap up, Tartakovsky and Murdocca fielded some questions, Murdocca pointing out that they're going to work with Mark Mothersbaugh on the music in about two weeks and Tartakovsky addressing the amount of adlibbing done on the project. "They're kind of like slaves to their jokes, so if they wrote a joke they really like, they actually don't want to adlib." Tartakovsky added, "We thought they would do a lot more adlibbing. There was definitely some, but if they liked a joke, they will work at it and work at it and work on the timing of the line until they get a laugh from it." Murdocca pointed out that it came down to adding lines more so than adlibbing material. "Adam did some of the writing and when he writes a joke, he likes that joke."
After being asked to address the choice of Gomez's casting Murdocca explained, "She played really well against Adam and Andy and so she sounded like she's young enough to be Dracula's daughter and old enough to play against Andy as a love interest." Tartakovsky also pointed out, "Rather than getting another comedian, it's almost nice that she was almost the straight man in this crazy comedian cast." Another plus to working with Gomez? Her singing talents came in handy during the film's musical numbers.
To wrap up, Murdocca had a rather interesting answer to a question about monster rights. "There were no rights issues about using the characters, but there are certain things that we weren't able to do." For example, the inside of Dracula's cape couldn't be red, he couldn't have a true widow's peak and Eunice's hair couldn't have the exact same stripe. Murdocca added, "Frankenstein's bolts, we weren't allowed to do that. And believe me, we tried many different iterations of Frankenstein's bolts on his temples, on his head, everywhere, and we couldn't get any of them passed."
Hotel Transylvania is on its way to a September 28, 2012 release, so keep any eye out for more on the Sony Pictures Animation production in the coming months.
Your Daily Blend of Entertainment News
Staff Writer for CinemaBlend.
Your Daily Blend of Entertainment News
Thank you for signing up to CinemaBlend. You will receive a verification email shortly.
There was a problem. Please refresh the page and try again.