Disney Adapting The Stuff Of Legend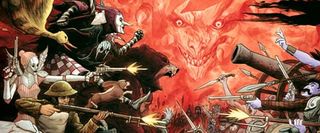 Ever on the hunt for a new epic adventure sure to lure in hordes of movie-going families worldwide, Disney has added another hot property to its development slate. Deadline reports the studio has made a "pre-emptive pitch deal" (whatever the hell that means) with Pete Candeland to adapt the graphic novel The Stuff of Legend. With the help of Abduction scribe Shawn Christensen, Candeland has reportedly spent nearly a year putting together a pitch and visual presentation to prove the property's potential to Disney. Christensen is attached to draft the screenplay while Candeland will direct.
This marks Candeland's second deal with Disney, as he was recently hired to helm a live-action feature inspired by their theme park attraction "Mr. Toad's Wild Ride." Though Candeland's background is in animation—having contributed to the beloved Aladdin TV series, All Dogs Go to Heaven 2, and the unconventional cartoon documentary Gorillaz: Phase One - Celebrity Take Down—The Stuff of Legend will also be a live-action film. However, it will feature a heavy amount of CGI in the vein of Tim Burton's Alice in Wonderland. For the sake of my sanity and my eyes, let's hope that's the only similarity between the execution of these two films.
Written by Mike Raicht and Brian Smith and illustrated by Charles Paul Wilson III, The Stuff of Legend graphic novels unfold an epic battle between the Boogeyman and a boy's beloved toys. But before you start writing this off as some cheap Toy Story variant, allow me to mention the books' darker details. First off, the Boogeyman lurches out of his Dark Realm into 1944 Brooklyn—more specifically out of the boy's closet—and drags him by his ankles into his twisted kingdom. From there, the boy's noble toys decide to mount a rescue mission, but as they cross the border of they Dark Realm are transformed from cuddly playthings to full-sized beings with functional—and fearsome—weaponry, like guns for the cowboys and soldier, swords for the knights, and ferocious teeth and claws for the teddy bear.
The artwork from these books is remarkable, and I'll be interested to see not only what Candeland comes up with for the CGI versions of these fascinating characters, but also how dark Disney will allow this wild tale to get.
Staff writer at CinemaBlend.
Your Daily Blend of Entertainment News
Thank you for signing up to CinemaBlend. You will receive a verification email shortly.
There was a problem. Please refresh the page and try again.