Disney Is Bringing Frozen Ice-Capade To An Arena Near You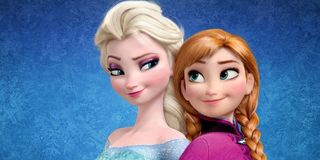 Previously, we've speculated on whether the massive success of Disney's Frozen might lead to a spin-off Broadway musical. That could still be in the cards, but before Elsa and Anna hit the Great White Way, they are going to hit the ice hockey arena near you!
The New York Times reports Disney has officially announced a Frozen ice show that will begin touring the United States this September. Described as an "ice skating spectacular," Frozen on ice is said to be the equivalent of touring Broadway musicals, which might mean this is some clever test run on the concept of an actual Frozen Broadway musical. But Disney's not saying that just yet.
No official name for this ice-capade is being released at this time, but to create a clear distinction between the movie Frozen and the ice-skating spectacular it has inspired, I'll be calling the latter Frozen on Ice.
Check out a promotional image from Frozen on Ice below, which features real-life Elsa and Anna on skates:
In many respects, Frozen on Ice is a no-brainer for Disney. For one thing, they've been spinning their most popular properties into ice-capades for decades. But none have been so naturally fitting as this tale of a princess who has the powers to turn the world around her into a winter wonderland of ice, snow, and talking snowmen.
Disney is planning a big production for Frozen on Ice that will boast 39 cast members and require 9 tractor trailers to cart all its sets and costumes from each tour date to the next. Feld Entertainment, which has produced Disney on Ice tours since 1981, will oversee Frozen on Ice's development. Promised for the upcoming tour are a stage resembling a six-sided snowflake, huge video projection panels on which the intimidating North Mountains can be projected, and 20 snow machines that will bring Elsa's wintry powers right into reality, treating audiences to snow on command. This last special effect will be a real mind-blower for children attending Frozen on Ice's premiere date in Orlando, Florida.
It seems safe to assume that Frozen on Ice will include many of the songs from Frozen's Academy Award-winning soundtrack. Initially, Disney was reluctant to market the movie as musical, fearing kids today might be turned off by it. Of course, you'd have to have been living in a cave for the past seven months to not know what a huge impact Frozen's soundtrack--created by Robert Lopez and Kristen Anderson-Lopez --has had across the U.S. Aside from an Oscar win and Billboard chart topping, there have been countless fan covers and parodies. And now that the movie is out of DVD, we're getting a new wave of reaction videos, like the one below that features US Marines singing along and full-on cheering for Elsa's big moment:
Look for more on Frozen on Ice as it gears up for its fall debut.
Your Daily Blend of Entertainment News
Staff writer at CinemaBlend.