Frozen Songwriters Clear The Air About Disney's Supposed Ban On God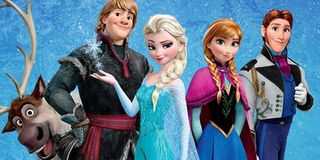 Earlier this week, there were many who turned a questionable eye towards Disney when Robert Lopez and Kristen Anderson-Lopez, the Academy Award-winning songwriters behind Frozen's "Let It Go," let it slip that the studio had requested they not use the word "God" in the lyrics for the songs in the film. Their comments suggested the family-friendly studio has some sort of ban on the word "God," and the possibility of such a policy ruffled some feathers. Now the married collaborators are setting the record straight, insisting it was not a ban on a word, but rather context of a word.
Business Insider got the scoop, following up with Robert Lopez and Kristen Anderson-Lopez after their interview with NPR's Fresh Air made waves. While the two were being honored at the Time 100 gala for making the list of the magazine's "100 Most Influential People of the World," they took a moment to clarify Disney's "God rule" and the resulting scandal. Anderson-Lopez explained:
Her husband, co-creator of such wild Broadway hits as Avenue Q and Book of Mormon, was quick to add the line from "Let It Go" that had been revised:
Those who've been singing Frozen's soundtrack on an endless loop since it opened last November will recall the line in the song's released version goes: "Couldn't keep it in…
So it's similar in meaning, but less likely to offend.
All in all it was a minor tweak. And aside from that note from their Frozen collaborators, Lopez and Anderson-Lopez stressed that Disney and its producers were open-minded. No other subjects were off-limits, even though Robert Lopez has earned his reputation for penning musicals with songs like "It Sucks to Be Me," "If I Were Gay," "You Can Be as Loud as the Hell You Want (When You're Makin' Love)," "Spooky Mormon Hell Dream" and "Hasa Diga Eebowai." (Warning, just about all of these are NFSW, so Google carefully.) All in all, the couple seemed thrilled, not only with the collaborative process of working on Frozen, but also (and of course) for all the praise and honors it has brought them since.
Kristen Anderson-Lopez shut down further speculation on some kind of Disney-mandated God-ban, saying: "Disney does not have a policy of not using the word 'God' at all."
Your Daily Blend of Entertainment News
Staff writer at CinemaBlend.