Disney's Frozen Crosses The $500 Million Mark, Joining Iron Man 3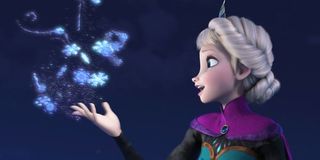 Disney has been tearing it up this year, and they'll be starting 2014 strong with their massive hit Frozen still in theaters. While it was edged out of the top spot by The Hobbit: The Desolation of Smaug this past weekend, the latest Disney princess tale has not only been a hit with critics, but also it has scored huge with audiences. Already, Frozen has earned a whopping $500 million worldwide after just six weeks in theaters.
Since its Thanksgiving debut, Frozen has pulled in about $250 million domestically, and another $250 million internationally. THR reports this hefty grand total makes it the fourth Disney film to have hit this milestone this year. Its predecessors here are Iron Man 3, Thor: The Dark World and Monsters University. The success of these films along with the $493 million brought in by Oz The Great and Powerful hoisted Disney to a record-breaking year that had them hitting the billion dollar box office mark last summer, then becoming the first studio to make $4 billion at the box office in one year.
Upon its opening, Frozen set a record for the largest Thanksgiving debut ever, pulling in an incredible $93.6 million for the five-day holiday weekend. This also made it the biggest opening a movie from Walt Disney Animation Studios had ever had. And it looks like Frozen could well have another record in its sights. For now, the animated Disney effort that has made the most money domestically was 1994's The Lion King, with $422 million over 26 weeks in theaters. If Frozen continues to draw in audiences and families the way it has been, this movie musical about two sisters/princesses could be Disney's new US champion.
But why is Frozen such a hot ticket? It'd be easy to say because it's a great movie (by our count it is). But as we all know Hollywood is hardly a meritocracy. There's several factors contributing to the film's success. The first is its record-breaking opening was was helped by little to no competition for family-friendly entertainment. While there was enticing PG-13 fare (Thor: The Dark World, The Hunger Games: Catching Fire) and more mature movies (Nebraska, Philomena, Oldboy), there was little in theaters for little kids, except the quickly forgotten Free Birds.
But Frozen didn't just kick ass in its opening weekend. It held strong, and showed serious staying power as hotly anticipated titles like The Hobbit 2, The Secret Life of Walter Mitty and Anchorman 2 opened. Here's where the film's quality comes into play. Critics overall raved, and audiences did too, giving Frozen a very rare A+ Cinema Score. This suggests word of mouth was strong with fans enthusiastically urging on-the-fence moviegoers to give this movie musical a shot.
The Wrap also credits an ad campaign that played upon the film's tonal and stylistic similarity to Tangled while focusing on the unbelievably winsome snowman Olaf. Plus, the commercials and trailers wisely played up Frozen's connection (via writer/director Jennifer Lee) to the 2012 hit Wreck-It Ralph. Notably, Frozen has already blown past Wreck-It Ralph's grand total, which was $471 mil worldwide. Basically, through timing, savvy marketing, and great word of mouth, this wonderful Disney pic is not only breaking down tired tropes, it's also breaking all kinds of records, potentially paving the way for a whole new era of Disney greatness.
Your Daily Blend of Entertainment News
Staff writer at CinemaBlend.