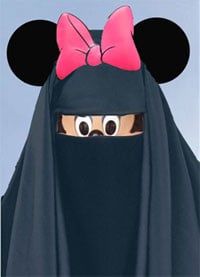 Disney has announced that they're beginning production on a movie called The Last of the Storytellers, which will be completely in Arabic. This will be Disney's first feature film in the language, but it is only one of three planned. In a surprising move, Disney is launching a campaign to have a larger presence in the Middle East.
Variety reports that Disney's movie, The Last of the Storytellers is indicative of the company's interest in the region. The Arab World's population of 300 million people is disproportionately young. This information is not lost on Disney. No doubt they see this as an opportunity to get more younguns hooked on their multi-media, worldwide empire. I wonder how you say "Mommy can I have this?" in Arabic.
An anonymous Disney exec tells Variety "There's a lot of opportunity for us in the Middle East. There's a lot of room for growth for us. It's the international territory that we're most excited about expanding into." So, your fears have been legitimized. Disney is taking over the world.
Disney is keeping it authentic with their first venture into Arabic by hiring Lebanese executive producer, Chadi Zeneddine. Rachel Gandin, who served as a translator on the set of Voices of Iraq will also produce. The Last of the Storytellers will be about Arabic folk traditions and goes into production at the end of 2009.
Your Daily Blend of Entertainment News
Thank you for signing up to CinemaBlend. You will receive a verification email shortly.
There was a problem. Please refresh the page and try again.