Disney May Lose A Staggering Amount Of Money On Tomorrowland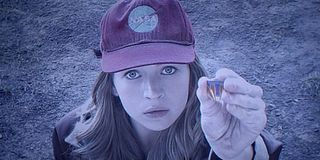 Last month, Disney launched their grandiose, ambitious epic, Tomorrowland. While the film took the number one spot in its debut, it did so in an embarrassingly anemic Memorial Day box office weekend. With its domestic momentum quickly fizzling, the film got little support from global moviegoing markets. Now, according to analysts, the film could end up putting a $140 million hole in Disney's pocket.
According to sources for The Hollywood Reporter, predictions for the financial future of the imaginative fantasy flick are dire, to say the least. Analysis points to the film losing as much as $120 to $140 million, once its rollout comes to a conclusion. For a film that came about with such auspicious ardor, this is a stunning testament to the state of cinema.
A visual spectacle on a staggering scale, Tomorrowland was produced with a budget around $180 million. As it stands at the time of this writing, nearly three weeks into its wide release, the film has grossed $77.3 million domestically and $93.5 million in foreign markets, not yet even enough to cover its extravagant budget. However, the real rub comes from the costs incurred from the film's (apparently unsuccessful) marketing efforts, which have been estimated to be an enormous $150 million. Thus, seeing as the film is expected to barely exceed the $200 million mark when all is said and done, Tomorrowland could essentially go down in the history books as an exorbitantly costly boondoggle.
From a prognosticator's perspective, the commercial failure of Tomorrowland is still rather shocking. It presented itself as a fantastic feast for the eyes, with an established, (sometimes) bankable leading man in George Clooney. From a creative standpoint, the film seemed to be in solid hands with director, Brad Bird, whose work on an array of films like Mission: Impossible – Ghost Protocol and The Incredibles showed a helmer who could juggle both mind-blowing action and family-friendly fun. However, despite having all the right ingredients, the general consensus is that Tomorrowland rendered itself confusing not only in its narrative pacing but in its own brand identification, something that left potential moviegoers rather unimpressed.
For Disney, the financial failure of Tomorrowland will be their first since 2013's heavily hyped Armie Hammer/Johnny Depp-starring reboot of The Lone Ranger ended up galloping away into the sunset with a whopping $190 million deficit. That film's folly was also more than matched by their 2012 summer flop, John Carter, which was said to leave the company $200 million in the red. Yet, the doom and gloom that was rampant during the fallout from those last two failures seems more muted this time around.
In fact, that overall understated response could be a sign that Disney may have finally learned their lesson when it comes to embracing risky big-budget movie monoliths. They clearly haven't spent much time licking wounds, seeing as their recent Marvel mega-sequel, Avengers: Age of Ultron, is currently riding an aggregate $1.3 billion box office wave. Plus, surefire moneymaking sequel, Star Wars: The Force Awakens, remains on deck for December. However, Tomorrowland could subsequently prompt more in-the-box choices when it comes to their expensive cinematic bonanzas.
While this development surely won't affect the bread and butter of fans of Disney's Marvel, Star Wars, and animated features, it could limit the breadth of original franchises looking to shape imaginations for new generations. Thus, snarky schadenfreude over Disney's latest flop might not be warranted for fans of genre movies craving more originality.
Your Daily Blend of Entertainment News
Thank you for signing up to CinemaBlend. You will receive a verification email shortly.
There was a problem. Please refresh the page and try again.