The Memorial Day Box Office Hit An Historic Low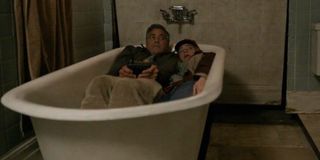 While you were outside bathing in the sunshine, eating barely cooked meat from a barbecue, and enjoying a few brewskis over the glorious Memorial Day weekend, cinemas and multiplexes across the United States recorded historically low box office figures that could have drastic repercussions for the way studios proceed.
Tomorrowland's meager attempt to recoup some of its hefty budget in its opening weekend reinforces the notion for studios that they should only provide hundreds of millions of dollars to finance franchises and sequels, while it also proves that the Memorial Day weekend is no longer the gateway to the summer blockbuster season. According to Entertainment Weekly, Tomorrowland only grossed $41.7 million over the four-day weekend, which, when you consider the fact that it cost around $190 million, means that it has a long way to go before making back its total.
It wasn't all completely bad for the cinematic moneymen though. Poltergeist took in $26.5 million, which, considering the fact that it was shot and released for $35 million, isn't a bad start. However, these figures are some way short of the amount that we usually associate with summer flicks.
But why is that? Well, one reason is that studios now look to kick-start the blockbuster season earlier than ever. Memorial Day has previously seen the likes of Indiana Jones and the Kingdom of the Crystal Skull, The Hangover III, X-Men: Days Of Future Past, and Pirates Of The Caribbean: At World's End bring in eye-watering amounts of money. But this summer Furious 7, Avengers: Age Of Ultron, and Mad Max: Fury Road each came out earlier, which suggests that studios don't need to rely on the holiday to seduce viewers.
It could also just be that this has been a bad year for films released on Memorial weekend. At $190 million, Tomorrowland always seemed like a risky venture, especially when you take into consideration that plot details were withheld until it was actually released. Memorial Day 2015's box office performance is the lowest since 2001, when Pearl Harbor and others totalled only $181.7 million. But when you take inflation into account, that year would then inch back ahead. There are hopes that once every single cent and dime has been counted 2015 could fare better that 2010's $192.7 million, but either way, it makes for some depressing reading.
And things aren't going to get much better over the next few weeks. This coming Friday's big hitters are Aloha, which has been mired in controversy and already dismissed as a failure by its studio, and San Andreas, which is likely to fair well in this short window as it's frivolous fun with the perfect meshing of a leading action star (Dwayne "The Rock" Johnson) and a silly premise. The weekend after is Entourage, Insidious Chapter 3, Love & Mercy, and Spy, the latter of which is likely to take in the most money, but even that amount is probably going to be less than what Hollywood desires.
Following this barren spell, the likes of Jurassic World, Inside Out, Ted 2, Terminator Genisys, and Ant-Man are likely to recoup impressive amounts. Overall, however, they industry will still be playing catch-up. Hollywood studios should just think themselves lucky that Furious 7, Fifty Shades Of Grey, American Sniper, and Avengers: Age Of Ultron gave them an impressive head start.
Your Daily Blend of Entertainment News
Your Daily Blend of Entertainment News
Thank you for signing up to CinemaBlend. You will receive a verification email shortly.
There was a problem. Please refresh the page and try again.