Is Disney Really Crazy Enough To Remake Beauty And The Beast?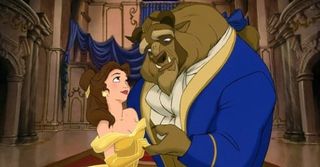 We've been hit with a whole lot of re-imagined fairy tales lately, from the dark and action-packed ones like Snow White and the Huntsman at Universal to the ones coming up at Disney, the people who practically invented modern fairy tales, like Maleficent and Cinderella. But it's one thing for Disney to try and resurrect fairy tales that were last told 50 years ago. Could they really try and one-up a modern classic?
It may sounds crazy, but it looks like it really is happening, with news at Deadline that the studio is eyeing Trance writer Joe Aherne to "reinvent" Beauty and the Beast. They're reportedly calling the project The Beast, and while Deadline is merely speculating by assuming that Ahearne's credit on the crime-ridden Trance means it's a darker film, recent history bears it out. No, Oz the Great and Powerful wasn't exactly a gritty and blood-spattered spin on The Wizard of Oz, but it did contain its share of peril and shocks. And in next year's Maleficent, Angelina Jolie plays the title character, the black-clad villainess from Sleeping Beauty finally given the central role.
"Dark" means one thing when applied to a Danny Boyle film and another entirely when applied to Disney, so I'm not too worried about a version of Beauty and the Beast that conveys the actual horror of a man being turned into a furry monster. But while Maleficent looks like a slam dunk and Alice in Wonderland obviously was one, Disney will be fighting a really huge competitor with this film: themselves. The 1992 animated Beauty and the Beast really wasn't that long ago-- and only a year ago they re-released the thing in 3D. Can they make a new version of the story that's valuable enough to make us overlook Belle and her tale as old as time?
Staff Writer at CinemaBlend
Your Daily Blend of Entertainment News
Thank you for signing up to CinemaBlend. You will receive a verification email shortly.
There was a problem. Please refresh the page and try again.