Doctor Strange: Get Your First Look At The Sorcerer Supreme's Hideout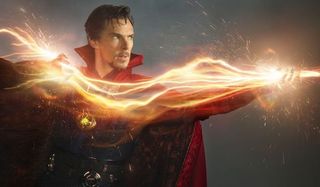 Battling the forces of evil is a tough job, which is why every superhero needs a place to relax when they're off duty. For Stephen Strange, that place is the Sanctum Sanctorum, where he houses his priceless artifacts and continues his work in the mystic arts. With the Sorcerer Supreme's cinematic debut less than a year away, we finally have our first look at how his base of operations will look in Doctor Strange.
Following up on last week's massive Doctor Strange news drop, Marvel has released several pieces of concept art from the 2016 blockbuster, including artwork of the Sanctum Sanctorum. The first picture above shows the area, called the Chamber of Relics, where he keeps many of his mystical items. If he cared about money, Strange could sell tickets for people to look at his cool stuff, as this room's laid out like a museum. The picture below shows Benedict Cumberbatch's Strange in what looks like his meditation room, where the good Doctor goes for some much needed quiet time. One wonders if that circle in the center is an area where a portal to other dimensions could be created.
Just like in the comics, the MCU's Sanctum Sanctorum will be nestled in Greenwich Village, New York (specifically on Bleeker Street), and Strange will set up shop there after learning the mystics arts from The Ancient One. Much like the TARDIS from Doctor Who, the magical base of Doctor Strange is bigger on the inside; which allows the Sorcerer Supreme a lot of room to keep his many artifacts, conduct his studies and even house guests. Sometimes the arrangements of the hallways and rooms change all by themselves. It also has numerous spells cast around it so that supernatural enemies can't break in, though occasionally these defenses have been shattered. On the outside it looks like a regular townhouse, thus not drawing attention from anyone passing by.
Although Strange lives there with his manservant Wong in the comics, there's been no word about whether Wong will appear in the movie, so Strange may be crashing there solo in Doctor Strange. At one time it also served as the headquarters for The Defenders, and I imagine if Strange starts working with other heroes, he would open the Sanctum Sanctorum to his allies. Perhaps we'll see something like that happen in a future Avengers movie. Although the Sanctum Sanctorum will likely remain Strange's safe haven during the movie, there's always the possibility someone will be able to break into it in an effort to kill him, be it Mads Mikkelsen's unnamed character, Baron Mordo or a creature from another dimension.
Doctor Strange will work its magic on moviegoers when it hits theaters on November 4, 2016.
Connoisseur of Marvel, DC, Star Wars, John Wick, MonsterVerse and Doctor Who lore. He's aware he looks like Harry Potter and Clark Kent.
Your Daily Blend of Entertainment News
Thank you for signing up to CinemaBlend. You will receive a verification email shortly.
There was a problem. Please refresh the page and try again.