Doctor Strange Looking To Add Tilda Swinton In A Gender Swapping Role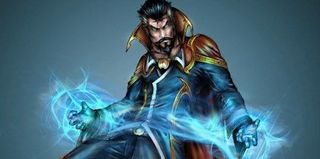 Most of the focus in the Marvel-verse is currently on the expansive cast of Captain America: Civil War, but we can't forget that Doctor Strange is coming down the pipe next year as well. Set to film this fall, Tilda Swinton is joining the cast as an important character, though there movie is making one drastic change that is sure to spark a lot of conversation and controversy.
According to The Hollywood Reporter, Swinton is in talks to play the Ancient One, a Tibetan mystic (who better for a role like that than the Snowpiercer and Only Lovers Left Alive star?), who serves as a mentor and advisor to the title character, to be played by Benedict Cumberbatch. However, in the comics, the character is a man, while, with Swinton taking the role, it will obviously be a woman.
In Doctor Strange?, Cumberbatch plays Stephen Strange, a cocky surgeon who loses the use of his hands and, obviously his career. He goes to great lengths to fix himself, and, in one last desperate gasp, turns to magic. The Ancinet One is his mentor and spiritual guide, training pupils in the hopes of one of them becoming the next sorcer supreme. It's going to be interesting to see what impact this has on the larger MCU, as Strange brings a different background, set of powers, and overall approach. We haven't seen this level of mysticism and magic onscreen yet.
Marvel was apparently shopping for a male actor to take the Ancient One part, but after rethinking it, they changed their direction and decided to make the cinematic incarnation of the character a woman. And in Swinton, they may have found the perfect actor for the part. She's has an incredibly varied career, appearing in movies big and small, and isn't easy to categorize. She has her own unique look and aesthetic, and is fantastic in everything she does, especially more left-of-center roles, and this certainly fits the bill.
We would also be lying if we said we weren't pretty psyched to see Tilda Swinton and Benedict Cumberbatch go head to head in a Marvel movie. With those two on board, and Sinister director Scott Derrickson at the helm, this promises that it isn't going to be your typical, by the numbers superhero joint.
Doctor Strange is scheduled to begin production later this year, sometime this fall, and it is slated to hit theaters next year, on November 4, 2016.
Your Daily Blend of Entertainment News