Tilda Swinton's Crazy AMA: Being Bowie's Clone, Narnia Sequels And 4 Other Bonkers Things We Learned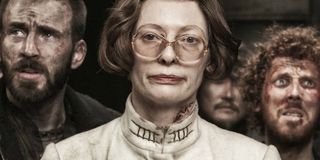 Here at Cinema Blend, we're all big fans of Tilda Swinton. Of course, we've devoured her AMA. I mean, how could we not? She went from doing wildly ambitious and daring art house movies to playing an androgynous angel opposite Keanu Reeves, then became a iconic movie villainess sure to haunt children's dreams for generations to come. She brought up George Clooney's rubber Batman nipples when she won her Oscar. (She teases she has a "large stash of polaroids" of Clooney in this geek-reviled getup.) But best of all, she delivers one vanity-free and captivating performance year after year. So far in 204, she's already brought us The Grand Budapest Hotel, Only Lovers Left Alive, and Snowpiercer.
In promoting Bong Joon-ho's Snowpiercer, Tilda Swinton took Reddit to do an Ask Me Anything, before she made dinner in northern Scotland. The results were predictably wonderful, though never in and of themselves predictable.
She May Be A David Bowie Clone
She will not confirm or deny when asked if she's been cloned from Bowie so that he could not only revolutionize music, but also become a gender-bending movie star (very Orlando). All she will say is: "The laboratory gave me strict instructions to issue no comment."
Swinton's Game For More Narnia Movies
Asked if she might reprise her role as The White Witch, Tilda not only said she'd like to, but suggested how that might come about. She explained, "I have always hoped that there would be the chance to make THE MAGICIAN'S NEPHEW, the prequel to THE LION THE WITCH AND THE WARDROBE. Such a fantastic story -- the creation of Narnia, and the Witch driving a coach and four horses around Victorian London at breakneck speed. But no word as yet. Let's cross our fingers."
Preproduction Is Work; Filming Is Play
Tilda Swinton is rightly regarded for chameleon-like transformations from one film to the next. Again and again she has spoken of how she worked with the production team on getting the look of the Snowpiercer character just right. She offered, "The whole business of dressing up and playing is the greatest of fun for me... every time, it doesn't have to be something as extreme or pantomime ridiculous as Mason in SNOWPIERCER or intricate as the extraordinary prosthetics for GBH... even when working out the look of someone pretty regular like the woman in I AM LOVE or (We Need to Talk About) KEVIN... the look is, in a pretty big way, where I mainly do my work... once we start shooting, then: I play."
Making Movies Is A Summer Camp Of Dreams
Asked about her work on The Grand Budapest Hotel and Only Lovers Left Alive, Swinton described working with Jim Jarmusch and Wes Anderson as "a summer camp of dreams." Though she clarified the atmosphere on these two adored indie auteur's sets are very different. She explained: "Wes Camp means all staying in a big house together and eating round one big table every night, none of that trailer stuff that big movies do, which tends to divide people out and make for lonely days (so I hear). Jim Camp is rock n' roll camp, nocturnal, super mellow, like the endless morning after a crash-out sleep-over when no one really wants to go home."
She Begs You To Look For Julia
Tilda Swinton has been in a wide array of films, so even the most devoted admirers may have missed one here or there. But asked for which under-appreciated offering she really would love more people to see, she answered, "I made a film with Erick Zonca called JULIA of which I am extremely proud: in the United States it had a very small release by a great little and passionate distribution company called Magnolia. But there was only so wide they could release it. PLEASE look for that one. It is something else, and I LOVE it."
Success Is Kitten Sniggers
Swinton clearly adored working on Snowpiercer in large part because of director Bong Joon-ho. She explained how the people involved in a project is what typically guides her choices. Joon-ho is what first drew her to Snowpiercer, as she counts several of his films among the best she's seen in the last 15 years.
But when asked what he favorite part of working on the movie was, she gave a surprising answer, while urging American audiences to seek it out. (Sidenote: We second that.) Swinton said, "SNOWPIERCER is something all of us who made it are so excited about everyone seeing. Bong Joon Ho is a total master, and it is such a privilege to be his colleague. The more of you in the U.S. who see it this weekend, the more theatres will play it over the next weeks, so GO HARD! My favourite part of filming was probably making Director Bong laugh. He kind of sniggers like a kitten."
Snowpiercer is now in theaters, and expands its release this weekend.
Staff writer at CinemaBlend.
Your Daily Blend of Entertainment News
Thank you for signing up to CinemaBlend. You will receive a verification email shortly.
There was a problem. Please refresh the page and try again.