Donnie Yen Officially Joins Crouching Tiger, Hidden Dragon II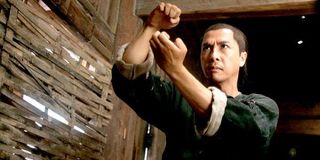 Last week, Grantland's Bill Simmons wrote a feature about "The Action Hero Championship Belt," detailing how each year in cinema was conquered by a certain onscreen badass. It's a fun read, and you should check it out. But because of a fractured marketplace, he stumbles in labeling recent years as belonging to any particular star beyond Liam Neeson (come on Simmons, he's in his sixties). And yet, where is Donnie Yen, martial artist extraordinaire currently dominating the Chinese marketplace? With Yen's next high profile role, guys like Simmons will have less of an excuse to leave him out.
Yen is now signed to star in Crouching Tiger, Hidden Dragon II: The Green Destiny according to Deadline. His involvement was apparently up in the air despite being settled a while ago, as Yen made a move to change agencies. Yen is playing Silent Wolf in this sequel, which teams him with the first film's Michelle Yeoh. Previously, Zhang Zi-Yi was tabbed to appear in the film as well, though that was later debunked. The material is derived from Iron Knight, Silver Vase, the fifth book in a 5-book series to which Crouching Tiger, Hidden Dragon was the fourth.
It's unclear as to whether Chow Yun-Fat will be returning, as his character plays a pivotal role in the book. Yen seems to be the clear star attraction, however. The original film was a sensation upon its release, grossing $213 million worldwide and winning four Academy Awards, including Best Foreign Film. It launched director Ang Lee into the stratosphere as well: he followed the film with Hulk, which drew mixed reactions, but afterwards he was able to win two Oscars for Best Director, for Brokeback Mountain and Life Of Pi. The Weinstein Company made an aggressive push for their Miramax properties, and will start sequelizing them soon. It makes sense that one of the most decorated would be next in line.
But Yen right now is a bonafide global star. China counts him as their most bankable leading man. He's never been huge in America, popping up in bit parts in films like Blade 2 and rejecting overtures from the Expendables movies. Yen's latest, Monkey King 3D, just made $165 million in China and is slated for a sequel, and he's got seven movies slated for release this year according to IMDb, including Iceman and Iceman 2, about a group of Ming Dynasty warriors who travel 400 years into the future and end up in modern day. Crouching Tiger, Hidden Dragon II: The Green Destiny will be directed by Yuen Woo-Ping, the famous martial arts coordinator who last directed the savagely entertaining True Legend. Check out the trailer for that below.
Your Daily Blend of Entertainment News
Your Daily Blend of Entertainment News
Thank you for signing up to CinemaBlend. You will receive a verification email shortly.
There was a problem. Please refresh the page and try again.