Doris Day Might Make Her First Movie In 47 Years, Get The Details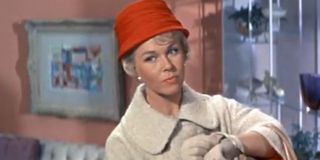 When you've had as long and vaunted a Hollywood career as, say, Clint Eastwood, you make some serious connections and wield a rather heavy influence. Your name alone gets you into places no one else can go, and the actor-turned-filmmaker is using that power to talk Doris Day, who hasn't made a movie in 47 years, out of retirement. Yeah, that's nuts.
According to the German tabloid Bild, via The Guardian, the American Sniper director recently gave the 91-year-old actress, who just so happens to be his neighbor in Carmel Valley, California, a script. She was reportedly "delighted" at the opportunity, and things have moved on the point where the two sides are reportedly trying to work out a deal to make this thing happen.
Eastwood, who himself is 85-years-old, though you'd never know it from the pace at which he works, is currently working on Sully. That film is based on the heroic feats of airline pilot Chelsey "Sully" Sullenberger, who executed an emergency water landing of a commercial plane in the Hudson River, saving a lot of lives in the process. Tom Hanks is attached to the picture and will take the starring role in the film.
It's unclear if that is the project Eastwood offered to Day, but you have to imagine that the part, or at least the film, must have been something pretty special to lure her back after so many years away. She does, however, have a couple of stipulations about the project that she seems pretty serious about. First is that, whatever it is, it must film in Caramel Valley, which makes sense since she's 91 and probably doesn't want to travel too far from home. Though Sully is set in New York, that doesn't preclude her from being involved, you can always build sets. Second, a portion of the proceeds must go to an animal welfare charity. Since her retirement, she has become a staunch advocate for animal rights, even establishing her own Doris Day Animal Foundation—perhaps that will be the beneficiary, which could be a motivating factor as well.
Most known for her roles in classics like The Man Who Knew Too Much, Calamity Jane, and Pillow Talk, among others, Doris Day last appeared in a feature film 47 years ago, in the 1968 romantic comedy With Six You Get Eggroll. That wasn't her final role, however, as she continued to appear on The Doris Day Show for a few more years, until 1973. Also a prolific singer, she release an album, titled My Heart, in 2011.
In 1967, shortly before her last silver screen appearance, Day also turned down the role of Mrs. Robinson in Mike Nichols' The Graduate. Day passed because she found the role vulgar and distasteful, and the role eventually went to Anne Bancroft.
There aren't many details on the project Clint Eastwood offered, but as it may have temped Doris Day out of a long retirement, you better believe whatever it is, it has our interest.
Your Daily Blend of Entertainment News
Thank you for signing up to CinemaBlend. You will receive a verification email shortly.
There was a problem. Please refresh the page and try again.