DreamWorks Animation Kicks Off The Oscar Campaign For How To Train Your Dragon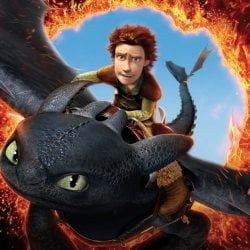 Taking to the air a bit early, DreamWorks Animation has kicked off the Oscar season for its awards hopeful How to Train Your Dragon. This week DreamWorks sent out For Your Consideration fliers to awards voters, declaring the movie a contender in both Best Animated Feature and Best Picture categories, according to THR. Although its unusual for a studio to begin Oscar campaigns for their movies before Labor Day, you've got to respect the aggressive early maneuvering.
And the reason for that is fairly obvious. If How to Train Your Dragon doesn't take to the ring fast and hard in this awards race, it'll likely be neatly forgotten amidst all the Toy Story 3 shrine-building. The fact that the number of Best Animated Feature nominees can range from three to five (depending on the number of eligible contenders) is another reason to remind voters of Dragon. The DreamWorks viking-meets-dragon heartwarmer flourished through great word-of-mouth and utilized the 3-D format in an exhilarating and moving way (rather than cheap and greedy). For those reasons alone, you can respect their desire to showcase their unsung competitor.
As for the studio's bid for a Best Picture nom, why not? In a field of 10 Toy Story 3 is all but guaranteed to nab a best pic nomination. For all intents and purposes, that Pixar racing lane is the one Dragon is shooting to overtake.
Your Daily Blend of Entertainment News
Thank you for signing up to CinemaBlend. You will receive a verification email shortly.
There was a problem. Please refresh the page and try again.