The Drug Jennifer Lawrence Took Before Filming A Hunger Games Scene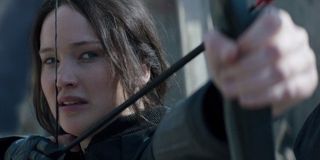 Here's the thing: we all love Jennifer Lawrence. Not only is she ridiculously candid to such an extent that she's even willing to tell people not to go see her upcoming films, but she's the sort of person that you'd love to spend an evening shooting the breeze and playfully making fun of. The Academy Award-winning actress took her honesty to a whole new level during her recent appearance on The Tonight Show With Jimmy Fallon when she admitted that she filmed a Hunger Games scene after taking ambien.
Ambien is primarily used to treat insomnia, which means that there's a good chance Jennifer Lawrence was holding a bow and arrow as Katniss Everdeen while at the same time battling against falling asleep. Jennifer Lawrence made this admission to host Jimmy Fallon and guest John Oliver as she played the game True Confessions.
After Jennifer Lawrence opened up her envelope and declared, "I once took an Ambien before filming a scene in The Hunger Games," she then had to face a series of questions from her opponents as they tried to figure out if what she'd just said was true or false. During her questioning Jennifer Lawrence admitted that she accidentally took the ambien because she thought it was something else. Both John Oliver and Jimmy Fallon then guessed that Jennifer Lawrence was telling the truth, which the Silver Linings Playbook and American Hustle star then confessed was correct.
Before Jennifer Lawrence was able to go into any more details about the scene in question – which she previously admitted revolved around her dancing – True Confessions had moved onto the next round of questions. It was the ultimate tease because she didn't even let us know which instalment from the Hunger Games franchise the scene was from, and now in order to find out, we'll have to go back and watch them all again. Well played, Lawrence. Well played.
You can check out Jennifer Lawrence being glorious, John Oliver being a delight and Jimmy Fallon being Jimmy Fallon as they play True Confessions on The Tonight Show below. It's truly a wonderful way to spend seven minutes and 21 seconds of your day.
Jennifer Lawrence made her appearance on The Tonight Show to promote her third performance as Raven Darkholme/Mystique in X-Men: Apocalypse. There's been a rather subdued response to Apocalypse, which means that Jennifer Lawrence is going to have to be twice as charming to get bums on seats for the blockbuster when it's released on May 27. The above was a very good start.
Your Daily Blend of Entertainment News
Your Daily Blend of Entertainment News
Thank you for signing up to CinemaBlend. You will receive a verification email shortly.
There was a problem. Please refresh the page and try again.