Early Transformers: Revenge Of The Fallen Reviews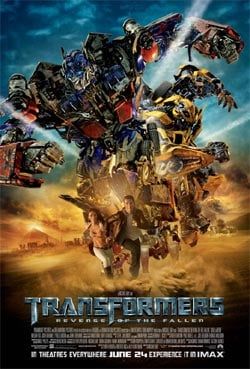 The movie is still a couple of weeks away and most critics here in America won't be able to see it until a day or two before it opens, but Transformers: Revenge of the Fallen has already started screening for the press in places like Japan and the UK. Most seem to have seen it on Saturday which means reviews have already started appearing from around the globe.
So what's the consensus so far? Doesn't sound like anyone who saw the first one is going to be disappointed. The early word, both from the three critics who have posted reviews and from most of the fans who have appeared to post on message boards around the web, is very good. In fact Total Film's Mark Samuel's claims it comes very close to surpassing the first one.
Of course if you hated the original Transformers movie and couldn't loosen your collar enough to join the rest of us in flat out enjoying it… well there's probably still no hope for you. What were you expecting? Optimus Prime isn't suddenly going to turn into Woody Allen.
So here's a quick look at some of the earliest Transformers 2 movie reviews appearing around the web. We'll keep updating this page over the next few days with more reviews as they appear, so check back early and often as the early critical consensus keeps transforming.
Early Revenge Of The Fallen Reviews:
"The biggest movie of the summer is finally here, but that's the problem with Transformers: Revenge of the Fallen - it's just too bloody big. Epic, spectacular but unfortunately far, far too long; the film proves that when it comes to Michael Bay blockbuster movies, you can have too much of a good thing." - Orlando Parfitt, IGN UK [3/5]
"Fallen so frequently approaches the first pic's all-out awesomeness, and even occasionally surpasses it - notably in an opening blitzkrieg in Shanghai and a forest face-off between Optimus Prime and three Decepticons impressive enough to merit comparison with King Kong's multiple T-Rex smackdown - that it's this close to being the perfect summer flick. The problem is, it's the parts you remember, not the whole." - Mark Samuels, Total Film [4/4]
"Terminator Salvation director McG challenged Bay to a "dick measuring contest" between their admittedly similar-in-concept movies, but his efffort failed because it took itself far too seriously. Transformers: Revenge Of The Fallen, however, succeeds because it's ridiculous in all the right ways. Check your brain in with your coat and soak in the most gloriously dumb spectacle of the year." - Ali, The Shiznit [4/5]
"Unlike the summer's other big robot movie, Revenge Of The Fallen does have a personality, but it's a frightfully detestable one. It celebrates all the wrong things with ferocious gusto, marking a new type of low for blockbusters." - Aaron Asadi, SciFiNow [2/5]
"In terms of explosions, firepower and sheer shrill, all-action, popcorn entertainment it is hard to see how this big'n'bold sequel can be topped this year." - Mark Adams, The Mirror
"It's bigger. Badder. Boobier. And many other words beginning with B, including boneheadedly brilliant." - Robbie Collin, News Of The World UK
"With machines that are impressively more lifelike, and characters that are more and more like machines, "Transformers: Revenge of the Fallen" takes the franchise to a vastly superior level of artificial intelligence." - Jordan Mintzer, Variety
"A super-sized second helping, but the novelty factor and some of the charm's gone. Hey, at least there's more Megatron / Starscream squabbling this time round." - Nick de Semlyen, Empire
Your Daily Blend of Entertainment News