Ed Brubaker To Adapt Coward For Director David Slade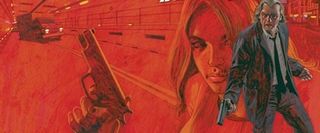 It's still hard for me to wrap my brain around the fact that David Slade, the guy who directed Hard Candy and the surprisingly effective 30 Days of Night adaptation, also helmed Twilight: Eclipse. I mean, I get it. I'm sure it's a hefty paycheck and it earns you goodwill you can use toward getting more interesting projects made. Or hell, maybe Slade's just a closet Twihard. Still, it's a relief to see Slade getting back to projects not involving sparkly vampires, and one of those projects will unite him with Eisner Award-winning comic writer and artist Ed Brubaker. Variety reports that Slade will direct an adaptation of Coward, the first book in Brubaker's crime comic Criminal. Even better, Brubaker himself will be writing the script.
Coward will adapt the first five issues of Criminal, telling the story of a master thief and pickpocket named Leo, who, like many a fictional criminal before him, adheres to a strict code of conduct. He insists on being in charge of any job he takes part in, and he won't allow guns. In spite of rules that might make many cons balk, he's in high demand because he's masterful when it comes to planning heists. When he takes on a new job, however, everything goes wrong and Leo is being pursued by both sides of the law.
While Brubaker has worked extensively in comics on series such as Batman, Daredevil, and The Authority, he doesn't have much on his published filmography as yet. IMDb lists him as the writer of the 2009 film Angel of Death, but Criminal would definitely let Brubaker play in a different league in the film world. As for Slade, he's got several projects on his horizon, including The Last Voyage of the Demeter, which is about the ship that carried Dracula's coffin from Transylvania to England, and the Daredevil reboot.
Your Daily Blend of Entertainment News
Thank you for signing up to CinemaBlend. You will receive a verification email shortly.
There was a problem. Please refresh the page and try again.