Eddie Murphy Is Done Making Movies Just For The Money, According To Eddie Murphy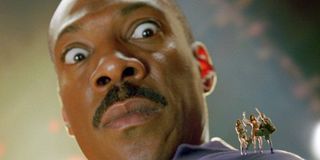 It's been a while since we've seen Eddie Murphy in the spotlight. His last credit was reprising his role of Det. Axel Foley in a 2013 Beverly Hills Cop TV movie that never aired. On the big screen, he last appeared in 2012's A Thousand Words, a kind of spin on Jim Carrey's Liar, Liar. He has a number of film roles in the works, including the Twins sequel Triplets, a Richard Pryor film, and Beverly Hills Cop 4. According to a new profile of the funnyman, Murphy himself claims to be done with making movies specifically for the money, which probably explains why we've seen so little of him lately.
His exact phrasing to The Washington Post is,
He seems to be going the opposite direction as Adam Sandler, who said — either joking or not — during the press tour for Blended that he chooses films based on where he wants to travel. So for Murphy, what does he have in the can that he doesn't consider "check movies"?
According to the paper's profile, he wrote three scripts already. One is for a film called Buck Wonder, Super Slave, which spoofs Steve McQueens' Best Picture-winning 12 Years A Slave, Roots, and superhero movies in general. Then there's an R-rated film about talking animals (certainly an homage to his Dr. Doolittle days), and another story about two brothers who inherit a black circus.
A few days ago we heard rumblings about a potential Netflix movie Eddie Murphy was making, though Deadline offered a reality check on the situation and said it isn't as far along as people think. Still, considering no other details were revealed at the time, could one of these projects Murphy described end up on the streaming service?
Elsewhere, the actor also mused with The Post about a return to the stage and standup.
While details on Eddie Murphy's future are still unknown to the public, it certainly seems like he has a plan. At least we can rest easy knowing that we most likely won't see films like Pluto Nash, Norbit, Meet Dave, and Imagine That from him anytime soon.
If you have some time for a lengthy read, you should check out the entire profile (at the link above). It goes into further detail on the current state of Murphy, his new outlook, and interesting takes on why he didn't want to impersonate Bill Cosby on the SNL 40th anniversary special, saying he felt wrong about it.
Your Daily Blend of Entertainment News
Thank you for signing up to CinemaBlend. You will receive a verification email shortly.
There was a problem. Please refresh the page and try again.