Eddie Murphy Is Joining The Richard Pryor Biopic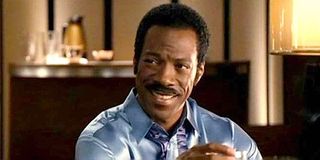 The Richard Pryor Biopic, which about six months ago cast Mike Epps in the role of Pryor, just added another big name to its slate of actors. That's right, SNL vet Eddie Murphy has just officially joined the cast of the upcoming drama.
Murphy is said to be in talks to board the film in the role of the comedian's father, LeRoy "Buck Carter" Pryor, a boxer and WWII veteran, reports Variety. The Lee Daniels project is also said to co-star Oprah Winfrey, and potentially Kate Hudson, and will be produced by the Weinstein Company, the lattermost which Richard Pryor's widow, Jennifer Lee Pryor said "would like it [the upcoming biopic] to be released for the Oscars." Daniels posted this photo of himself and the Dreamgirls star to his Instagram Thursday night.
Leroy is known to have been an abusive alcoholic who, along with Richard's strict grandmother, frequently beat the young boy. It should certainly be interesting to see Murphy embody such a complicated and stone-cold character.
Murphy is said to be a huge fan of Pryor and reportedly grew up doing impersonations of the late comedian in his early years. The two eventually even came to work together in the 1989 film Harlem Nights, of which Murphy wrote, directed and co-starred in alongside Pryor and Redd Foxx.
There were many versions of the Richard Pryor Biopic over the years, with actors like Chris Rock and a couple of the Wayans brothers in consideration to play the comedian, prior to Daniels' current rendition starring Epps. Many of the previous productions hit the skids due to difficulties with Pryor's above-mentioned widow Jennifer Lee, who was said to have problems with a number of the actors set to play her late husband. Murphy was at one time even cast to play the legendary comedian in a film to be directed by Bill Condon but that production was obviously brought to a halt. Word has it that Jennifer Lee is not a big fan of Murphy, who had a sort of competitive relationship with Pryor. In a 2011 interview with Rolling Stone, Murphy discussed what some said have referred to as a resentful friendship:
With Lee Daniels overseeing, Epps in the role of Pryor and Murphy playing the comedian's abusive father, this project is definitely shaping up to be something special. Oprah Winfrey has also been tapped to play Pryor's abusive grandmother and Kate Hudson is reportedly in talks to embody his fourth wife, the above-mentioned Jennifer Lee Pryor.
Your Daily Blend of Entertainment News
Your Daily Blend of Entertainment News
Thank you for signing up to CinemaBlend. You will receive a verification email shortly.
There was a problem. Please refresh the page and try again.