Eddie Murphy Is Returning To Dramatic Acting, Get The Specifics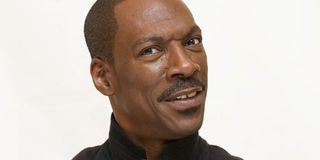 From Saturday Night Live to Beverly Hills Cop to Nutty Professor II: The Klumps, Eddie Murphy is known for his rubber-faced brand of comedy. But for his next venture, the funnyman is doing drama.
Deadline reports Eddie Murphy will headline Cook, a drama about the unexpected bond that forms between the titular cook and the mourning family he's hired to care for through the will of a dead man. Driving Miss Daisy director Bruce Beresford has been brought on board to helm what sounds like a touching film. Remarkably, Cook is based on a real story, the life of its screenwriter Susan McMartin, who has penned episodes of Two and a Half Men as well as Californication.
Playlist shared the plot synopsis. Charlotte "Charlie" Brody is just a teen when her life undergoes some serious turbulence. Her mother's lover has died, and inexplicably has hired a cook named Henry Joseph Church (Eddie Murphy) to come into her mother's modest home and cater to/for them. Charlie resents his presence, and doesn't understand why he's been sent here to begin with. Little does she know that her mother is hiding a terrible secret: terminal cancer. Church was hired to care for this loved woman for 6 months, but stays much longer, becoming a much-needed friend and parent-figure to young Charlotte.
Britt Robertson, who has appeared in Delivery Man and Under The Dome, has signed on to play Charlie to Eddie Murphy's Henry, a role he took after Samuel L. Jackson walked away.
Cook sounds like an intriguing premise, one rich for drama and a healthy lace of warm-hearted humor. But considering Murphy's signature style is much broader, he seems a curious pick for this project.
But to be frank, Murphy needs to mix it up. Outside of a Shrek movie here and there, his comedies of late have largely crashed and burned. The $60 million Meet Dave took in just $11 mil domestic. Imagine That (remember that? Me neither) made just $16 million domestic, while costing $55 mil. Domestically, 2011's Tower Heist made just $3 million more than its budget, despite a warm reception from critics. His last feature A Thousand Words pulled in an abysmal $18 million domestic, and got a 0% on Rotten Tomatoes. 0%! This all means that Eddie Murphy's last live-action hit was the 2007 comedy Norbit.
Notably, right before this Eddie Murphy hit another high, thanks to his role in the drama Dreamgirls, which earned him an Academy Award nod for Best Supporting Actor. So, maybe a return to drama is just what the Doctor Dolittle ordered?
There's no word yet on when Cook is looking to lens.
Your Daily Blend of Entertainment News
Staff writer at CinemaBlend.