Elizabeth Olsen On Learning How To Model And Like The Media For Martha Marcy May Marlene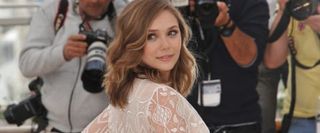 When I first talked to Elizabeth Olsen at this year's Sundance film festival for this interview, she was already well on her way to becoming a big deal. It wasn't just the famous name-- she's Mary-Kate and Ashley's sister, as you probably know-- or her looks that make her face absolutely luminous on the screen. Turning in two stellar performances in two different movies at the festival, Olsen was the kind of breakout actress everyone left Sundance talking about, the kind of person those of us who were there will talk about obnoxiously for the next few years: "Oh yeah, I knew she was going to be a big deal way before you heard of her."
Now that one of Olsen's Sundance movies, the moody and beautiful Martha Marcy May Marlene, is in theaters, she's becoming a big deal to the world at large, posing for magazine photo shoots, hopping around to film festivals all over the world, signing on to new movies right and left and, when she gets a spare minute, returning to Tisch at NYU to finish her degree. Because we'd covered a lot of the basics of the movie back at Sundance, last week I talked to her about the way her life has changed since January, the kinds of films she's being offered as an up-and-coming actress, and how she learned to actually like the media. Check out the full interview below. Martha Marcy May Marlene is out now in limited release.
Has your life since Sundance just been a festival after another?
Yeah, after Sundance, I made a movie in spring [Red Lights with Robert De Niro and Sigourney Weaver]. And after Cannes we did reshoots for Silent House, then something else happened that we had to do press for. It's not even press and festivals, but these interviews for magazines and stuff that I never thought about. I never understood why anyone would do magazines. Like, why would someone put their face out there so much? It's because those people reading magazines will go see the movie, so you do it. And I never really understood that until now.
So you're doing, like fashion shoots.
Yeah. Like, I don't know how to model clothes.
Do they teach you?
I've only done one shoot where it's modeling clothes, not like me in my environment. And the stylist, literally, I had her stand behind he photographer and do poses. I was modeling Chanel couture. I don't know how to wear those things! She would do poses and I would literally do what she was doing, because I don't know how to make those clothes look nice. So that was funny. But to tell you the truth, I like dressing up. It's all for the movie and continuing to consistently try and generate buzz and talk about it.
When we talked at Sundance you said that the media glare was something that kept you from going into movies when you were younger. Obviously you moved past that to start doing movies, but how has your attitude toward movies changed since Sundance?
It's changed a lot, now that I've been doing all this promotional stuff, I've learned a lot from it. I've also learned, like-- I really enjoy doing interviews. I like the movie, we had a good experience, there's nothing to hide, there's nothing you have to plan toss ay. You just have honest conversations with people about a movie you like. It's pretty great. I don't think of press and media as only negative now. I think of it as something supportive.
But you did think of it that way when you were growing up, seeing the other side of it.
Yeah, and it's a totally different part of the business. I still haven't had to deal with that, that bad part. Also living in New York is different I think from LA.
You've been going to festivals and working on small movies, is that a whole different side of filmmaking you didn't see before?
I din't see much of filmmaking before, ever, unless it was my sisters' videos and television. And that was when I was very, very young. After that it was just theater. I didn't really understand any movie sets. My friend's uncle was a hairdresser, and I remember visiting his set when I was in elementary school. For me, it was just a whole foreign thing. My brother knows more about film sets than I do, because he works at New York Film Academy. The whole camera thing I didn't understand. I spent many nights by myself at the Lammle's in LA, I loved going to see movies by myself. Independent films were always interesting to me, I just didn't understand how they differed--like technical point of view, financial, studio, investors, that was all foreign to me.
How much of that do you even have to understand?
I don't know if you do, I just find it interesting. If I'm going to do something, I'd rather know as much as I can about it.
Are there particular actors whose careers you want to emulate?
I just saw Maggie Gyllenhaal do Three Sisters at the Classic Stage Company. I think she's been able to balance film and theater. Also, when it comes to small films and big films and television, I look up to Kate Winslet a lot. She's done an amazing job trying to balance everything, and everything she does she's great in it. Like The Holiday-- I love that fricking movie, I'm sorry, I do.
There are so many terrible roles for women out there in movies. Have you been sent those kinds of scripts since Martha Marcy broke out?
Yeah, and you just read 20 pages of a script and say "no, I'm not going to bother." Even if it's a cool director, you want to try and balance all of those things. There have been lots of really messed up independent woman parts. I don't want to just play the crazy girl. Right now the parts that I'm really interested in, there are a ton of things that I'd love to do that either aren't financed or greenlit or happening yet. All of those consistently, for some reason, don't take place in modern day. And I think it's because the same reason I want to do a play, I want to do something that requires my body, my voice, my speech. I want something that makes me have to work hard.
That's funny, the period setting thing.
There is Very Good Girls, that Dakota [Fanning] and I are going to do with Naomi Foner. But that's a summer film, so we have to wait a while.
But that's happening.
Yeah, and then there's a matter of scheduling, but we'll figure that out. That movie is modern day, but the reason I love it is that it actually depicts a young friendship between two young girls. I don't know about you, but my girlfriends have been my girlfriends forever, and they're my sisters and my family. I feel like that hasn't really been represented in films, ever, and that's why I want to do that. It's a story that hasn't been told, the camaraderie between two girls. It's always between two guys.
It's been happening in comedy, like with Bridesmaids, but maybe drama is catching up.
Yeah, and they're usually the hardest to get made.
(Top image via Featureflash (opens in new tab) / Shutterstock.com (opens in new tab))
Staff Writer at CinemaBlend
Your Daily Blend of Entertainment News
Thank you for signing up to CinemaBlend. You will receive a verification email shortly.
There was a problem. Please refresh the page and try again.