Sundance Interview: Elizabeth Olsen Breaks Out With Two Festival Hits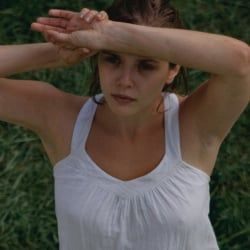 If you've spent even a minute reading coverage of this year's Sundance Film Festival, you haven't been able to avoid Elizabeth Olsen. The 21-year-old actress had spent two years studying acting at the Tisch School of the Arts in New York City when she started going on movie auditions last January, landing three back-to-back starring roles and now premiering two films at this year's festival. In Silent House, a haunted house horror movie filmed in a single continuous take (my review here), Olsen plays a young woman trapped in a house, besieged by attackers or maybe ghosts, or maybe just her own fragile state of mind. In Martha Marcy May Marlene she starts alongside a ensemble cast that includes Sarah Paulson and John Hawkes as a young woman who escapes from an upstate New York cult-like commune to find refuge with her sister, even while constantly fearing that her cult's leaders will come back to find her.
The two performances are remarkable on their own, and even more so given that they come from the same actress who is only beginning her acting career. That's not quite true, of course-- Olsen's IMDB credits stretch back to the mid-90s, when she popped up in two movies featuring her older sisters Mary-Kate and Ashley-- but as Olsen explains it, she was never interested in being a child actress like her sisters, and actually feared going into the movie business until recently. I talked to her about making the leap into film, dealing with the media attention on her sisters, what she learned from Catherine Keener, and how she decided to go nude in Martha Marcy May Marlene even though she'd never bare her midriff in real life.
Martha Marcy May Marlene has been picked up here at the festival by Fox Searchlight, and though Silent House is still awaiting a deal, you can almost definitely count on seeing it soon. Olsen has also been cast in Rodrigo Cortes's Red Lights, with more offers most assuredly to come. Read my interview below so you can meet Olsen before she inevitably gets even more famous.
At what point during your acting education at Tisch did you decide to audition for movies? Were you trying to bide your time, make sure you had learned enough?
It actually happened naturally because I went to school at the Atlantic Theater Company at Tisch, and they encourage their students to work professionally.
And you were always in school for acting.
Yeah. And I've been taking acting classes since I was 7. I took classes, kids auditioning with their mothers, and I didn't want that, I just liked the classes. I met my agent through understudying a Broadway play, and I was doing some underground stuff that nobody saw. And I started auditioning in January.
A lot of people start auditioning but stick around in New York theater. Why was film something you wanted to make the leap into?
I auditioned equally for film and theater. The difference is that theater has seasons, while film, it's always happening. Film always frightened me and was really scary. I love films, so why not try both mediums.
What was it about film that frightened you?
I think it was the media.
I mean, you were in films when you were little.
Well, that was like after-school for me. I'd hang out and they'd be like, hey, you want to be in this one? Then they'd paint half my face dark brown or something-- "Silly sister, forgot to put sunscreen on half her face."
That sounds really fun for a kid actually.
Yeah. But I saw the media in a really weird light growing up. And I think in theater, people don't really focus on the media unless there's a huge superstar doing a play or something. It felt safer to me. At a certain point I was like, I feel like a strong enough person to not have a fear of that.
Now you're here with the two films at Sundance. Is some of that media stuff coming true, doing the interviews?
Well, it's all for the movies. It's not for anything that's stupid. You know, yes, they're my sisters. They're great people, I love my family, we're very close. But we do very different things. And I have no problem answering those questions, because people are interested. That's the nature of it.
In some ways film acting is so different from theater, where you have to be more expressive than when in front of a camera. What was that transition like?
There's a teacher of mine, Todd Thaler is also a casting director in New york, referred to another actor saying "Acting is acting is acting." I got to work on Peace, Love and Misunderstanding-- that was the first movie I did, with Jane Fonda and Catherine Keener, and Bruce Beresford is the director. And just being around that atmosphere, especially from Catherine Keener, who is such an unbelievable person. She's so comfortable in her skin, and I really looked up to her, and love all her movies. I think every day you try to soak up as much as you can to learn and understand things better. At school you're not taught how to work on a camera, you're taught how to do a theatrical performance, but you're trying to do that also realistically, regardless of the size.
What was the learning curve like after making all of these movies in such short succession?
The funny thing about Silent House is it such a different way to make a movie. Had it been my first movie, I would not have understood how to make a movie. There's no coverage, there's no editing. To me Silent House is like being in a play-- you have to have the stamina.
It's also different from plays, since you're in every single shot, and you're the focus of all of them. Do you feel so focused on when you're making it?
In Silent House me and the DP, it was the two of us going to battle. He would verbally communicate things to me while filming that was taken out in sound. It was such a bizarre thing. I understood it was my face the whole time, because it was the real time, and that was another struggle, to make something interesting and realistic within an hour and a half of real time. I felt really lucky I was able to have two movies that are two interesting female characters.
You're the focus on these movies, and your body is also featured a lot-- there's nudity in Martha Marcy May Marlene, and in Silent House there's the white horror movie tank top--
That's funny about the horror movie tank top. They chose for me to wear a tank top, then they were trying to hard when we were filming to cover it up as much as possible.
Well you were talking about being afraid of film at first, and that exposure seems like it would be part of what you'd be afraid of. Was there a point where you just had to suck it up and go for it?
Well in Martha Marcy May Marlene I think it's incredibly important to the story. it is nerve-racking, but I've never been someone to-- I've never shown my midriff, anything like that. But when it's for a role and it's for a purpose, that's part of the job. The horror movie thing is, it's the horror movie thing. It's also the one-camera thing, you can't change the angle of the shot. That's what you see.
Your Daily Blend of Entertainment News
Staff Writer at CinemaBlend