Elizabeth Olsen Would Do A Scarlet Witch Solo Movie On This Condition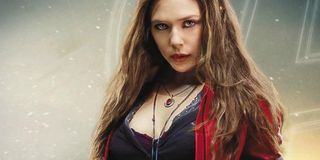 Marvel has come a long way since the early days of Phase 1. Although heroes like Captain America and Iron Man still maintain a consistent presence in the MCU, the universe has also begun to include a much more diverse and eclectic roster of heroes. One such hero is Wanda Maximoff a.k.a Scarlet Witch, who has played a key role in recent ensemble-driven films like Avengers: Age of Ultron and Captain America: Civil War. However, actress Elizabeth Olsen wouldn't find herself opposed to taking center stage for a Scarlet Witch solo movie – as long as certain conditions are met.
During a recent interview with The Huffington Post, Elizabeth Olsen explained that the right story could potentially attract her to a Scarlet Witch movie:
This shouldn't come as an enormous shock, but it seems that it would take a solid story to convince Elizabeth Olsen to do a Scarlet Witch solo movie. She would not want a narrative centering around her to have minimal impact on the direction of the Marvel Cinematic Universe; it would have to provide some sort of meaningful change to the franchise as a whole. Overall, she seems to have changed her tune over the course of the last year. Following the release of Age of Ultron, Olsen expressed some trepidation about a potential solo movie for herself, but now it appears that she's warmed up to the idea.
Elizabeth Olsen is in luck. As far as options for a Scarlet Witch movie go, any storyline involving her character could do quite a bit to advance the Marvel Cinematic Universe. Over the course of the last two films, she has barely even begun to scratch the surface of what she can do when she unleashes her powers without restraint. Some versions of the character even have the ability to rewrite the very existence of the universe itself – which basically means that if Marvel ever wants to integrate with the X-Men universe, she's the hero to make such a leap happen.
Giving Scarlet Witch her own movie could also help diversify the current slate of Marvel films. Sure, we will get a Captain Marvel solo outing in 2019, but the entire Marvel Cinematic Universe remains firmly a male-centric affair. Until we get the Black Widow movie that we so desperately want, Scarlet Witch seems like the best possible option for a female-driven Marvel movie.
To date, Marvel has seldom skimped on high-quality storytelling. If they ever decide to give Wanda Maximoff her own solo adventure, we have a feeling that they would generously invest in making sure she gets a proper story. Until that day comes, we will just have to make due with her current status as an integral member of The Avengers.
Originally from Connecticut, Conner grew up in San Diego and graduated from Chapman University in 2014. He now lives in Los Angeles working in and around the entertainment industry and can mostly be found binging horror movies and chugging coffee.
Your Daily Blend of Entertainment News
Thank you for signing up to CinemaBlend. You will receive a verification email shortly.
There was a problem. Please refresh the page and try again.