See Sylvester Stallone Get In The Ring For First Look At Rocky Spinoff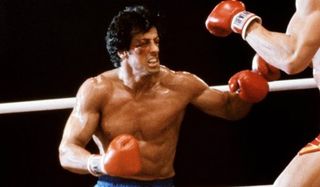 Sylvester Stallone is ready to enter the ring. Creed, the Rocky spinoff, is in the heat of production in anticipation of its November 25 release date, and now we have our first look at Stallone and the new star Michael B. Jordan. Check out the Human Torch in his new role as Adonis Johnson, the son of Apollo Creed.
Sylvester Stallone revealed the first photo from Creed on Instagram the other day, and he too is getting in fighting shape. The 68-year-old aging action star reprises his legendary role opposite Jordan as Adonis' trainer. Though he never knew his famous father, the prospective boxer feels the need to pursue the sport. So when he arrives in Philadelphia, the city that hosted the fight between Creed and Rocky Balboa, he seeks out this former champion to whip him into shape. While Rocky claims to be out of the game for good this time, he sees Creed's same strength and determination emerging from the young Adonis. He ultimately agrees to train him, though he's "battling an opponent more deadly than any he faced in the ring."
This should prove to be an interesting relationship, given past events. Though Adonis is said to never have known his father, one has to assume he's aware of his fate. Carl Weathers portrayed Apollo Creed in 1985's Rocky IV, during which he meets his end during a fatal match with Dolph Lundgren's Drago. Rocky held onto that towel for just a tad bit too long, and it'll surely come back to light when he meets Creed's son.
Creed also stars Phylicia Rashad as Mary Anne Creed, Apollo's widow; Tessa Thompson as Adonis' singer-songwriter love interest, Bianca; and English pro-boxer Anthony Bellew as champion "Pretty" Ricky Conlan. But this is Jordan's game. The 28-year-old had a fantastic year when he broke out as a star to watch in Ryan Coogler's Fruitvale Station. Shortly afterwards, he starred opposite Miles Teller and Zac Efron in That Awkward Moment and he was cast as the new Human Torch in Josh Trank's Fantastic Four reboot. Though he didn't get an Oscar nomination for Fruitvale Station, a decision that earned its fair share of haters, Creed might throw him in the consideration pool. This is already proving to be a major year for Jordan, with his first superhero outing debuting in theaters this August 7, and Creed coming a couple months later.
Your Daily Blend of Entertainment News
Your Daily Blend of Entertainment News
Thank you for signing up to CinemaBlend. You will receive a verification email shortly.
There was a problem. Please refresh the page and try again.