Ernest Borgnine, Star Of Marty And McHale's Navy, Dead At 95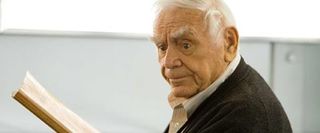 Ernest Borgnine, the Oscar-winner who defined a certain type of well-meaning middle-class guy with 1955's Marty, died yesterday at the age of 95. He acted in over 200 movies, starting with 1951's China Corsair, in which he improbably played the Chinese owner of a gambling club. But his movie career only started after 10 years in the Navy, an experience he credited in this fantastic interview with the AV Club with helping prepare him for the movie industry: " That's what makes a good football team, too. The idea of pulling all together, and off you go. It's the same way with motion pictures, in my estimation."
There are hundreds of excellent remembrances of Borgnine on the web today, and practically all of them focus on a different role he played, because there's so many to choose from-- the taxi driver in Escape From New York? The main character on the TV show McHale's Navy? The voice of Mermaid Man on SpongeBob SquarePants? Given my job and when I grew up, though, my clearest memory of Borgnine comes thanks to one of his more forgettable movies, 2010's Red. The movie about older spies getting back together for one last gig made room for Borgnine in a small cameo, though one that he owned with every bit of charisma he'd been showing for decades. It was the kind of small part that usually doesn't get you on a press tour, but Borgnine was there at the junket for Red anyway, holding court at a press conference in the basement ballroom at a Manhattan hotel. You can challenge me on the facts, but I swear to God he talked for an hour.
It's something of a cliche to talk about how much "life" an older person still had, or how they seemed to have let go of all the hang-ups and insecurities that hold back those of us who are younger. But how else to describe the presence Borgnine had at that press conference, cracking jokes even after interviewers needed to repeat the question a few times, happily taking questions about all of his older roles and seeming to marvel, right along the rest of us, that he was still around to tell these stories at all. In the final years of his career Borgnine starred in a blockbuster (Red), got an Golden Globe nomination (for the Hallmark TV movie A Grandpa for Christmas), appeared in a goofy comedy about a search for Bigfoot (Strange Wilderness), and notched 19 screen credits over a five-year period. And what have you been up to all this time?
Ernest Borgnine didn't live a life-- he lived something like eight of them. He's a force in movies who can never quite be replaced, a relic from another time who managed to be vital until the last moments of his life. He'll be missed terribly.
Your Daily Blend of Entertainment News
Staff Writer at CinemaBlend
Your Daily Blend of Entertainment News
Thank you for signing up to CinemaBlend. You will receive a verification email shortly.
There was a problem. Please refresh the page and try again.