The Escape From New York Remake Is Happening, Get The Details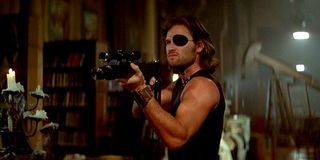 In news that will equally horrify moviegoers as much as it slightly excites them, a remake to Escape From New York has been ordered. Fox fought hard with several other studios for the rights to the, film and they have now sealed the deal to bring Snake Plissken back to the big screen.
According to Deadline, Andrew Rona and Alex Heineman's The Picture Company will produce the film, while John Carpenter, who wrote and directed the original, will work as an executive producer and is also set to have some creative control over it too. That will be of some relief to aficionados of the original. However, these same people will also be more than aware that there have been dozens of remakes made that have only disgraced their illustrious predecessors by being purely lame new incarnations. At the moment, Fox are hopeful that they upcoming remake will help to rejuvenate the property, and those involved are already planning to turn it into a brand-new franchise.
Released in 1981, Escape From New York was a commercial hit. Having been created for just $6 million, it went on to gross $25.2 million at the box office. Meanwhile, its reputation has continued to flourish over the decades and it is well and truly regarded as a cult commodity now, with Kurt Russell's Snake Plissken being seen as a true blue pop culture hero. It also possessed one of the most iconic and coolest posters of the 1970s too. Have a gander and be wowed by its bona-fide awesomeness below. It will be the best thing you do all day. Probably.
Escape From New York truly excelled because of both John Carpenter's succinct script and its sensational ensemble cast. Kurt Russell was perfectly cast as the U.S special-forces soldier turned rebel Snake Plissken - a monosyllabic, but still tough as a nut and moral bad-ass. The film takes place in1997, a decade after the Cold War had evolved into World War 3, Snake Plissken is dropped onto the island of Manhattan, which for 9 years has been used a maximum security prison, to retrieve the President of the United States after Air Force One crashed there. Isaac Hayes' Duke Of New York takes Donald Pleasence's POTUS hostage, and Snake only has 24 hours to retrieve him. Along the way, he bumps into Lee Van Cleef, Ernest Borgnine, Adrienne Barbeau, and Harry Dean Stanton, each of whom assist him in his efforts. It's rivetingly entertaining, while it also perfectly mixes post-Watergate paranoia with brainless action in a relatable but dystopian world. It truly is John Carpenter at his very, very best.
Will a potential remake be able to match 1981's Escape From New York? It's not bloody likely. But the suggestion that Fox plan to turn it into a franchise is the only reason I even have a tiny slither of hope. That's because they'll really need to make it good in order to entice viewers to return for a sequel. Needless to say a Kurt Russell cameo is a must.
Your Daily Blend of Entertainment News