Evan Rachel Wood And Mads Mikkelsen Join Shia LaBeouf's Charlie Countryman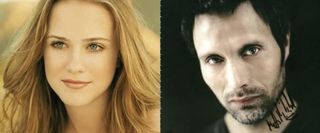 Even with all the talk out there about Transformers 4, and nothing set in stone yet, it still seems pretty obvious that Shia LaBeouf won't be returning to the franchise. His three-picture contract was signed when he was a barely known teenager, but the franchise presented all kinds of options to him, from the not-so-good (franchise-ruiner Mutt Williams in Indiana Jones 4) to the very promising (this year's The Wettest County). LaBeouf seems to have grown up and put his eye on more challenging projects, including his next one, the "gritty pulp romance" The Necessary Death of Charlie Countryman.
LaBeouf waffled on taking that role for a while, but he's set now, and Variety reports two more actors have signed on to fill the major roles. Evan Rachel Wood will be playing his love interest, a girl he meets after her father dies while sitting next to Charlie on a plane. Mads Mikkelsen, the Danish actor you might recognize as the baddie from Casino Royale, plays her violent and estranged husband, who obviously is pretty invested in preventing their romance from happening. Swedish commercials director Fredrik Bond will be making his feature directing debut with the project, and the script is written by Matt Drake, who's also credited with the upcoming party comedy Project X. That's a lot of interesting backgrounds to go into this kind of thriller, but maybe that's what will make it good.
Charlie Countryman is set to start filming in Eastern Europe this May, which could potentially mean we'll see it before the end of the year, but more likely early next year. Are you excited to see Shia LaBeouf go a little darker and more grown-up now that he's ditched Bumblebee for good? Wettest County, which is scheduled to come out in August, might give us more evidence of his talents to get us excited for this one.
Your Daily Blend of Entertainment News
Staff Writer at CinemaBlend
Your Daily Blend of Entertainment News
Thank you for signing up to CinemaBlend. You will receive a verification email shortly.
There was a problem. Please refresh the page and try again.